Scottish independence: Yes declaration hits million target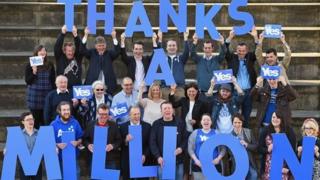 More than a million people have signed a declaration that they are in favour of Scottish independence, campaigners have said.
Yes Scotland set itself the target of getting a million signatures to its Yes Declaration when it launched in 2012.
First Minister Alex Salmond said at the time that if the target was met, Scotland would become independent.
The pro-UK Better Together campaign has said it still speaks for the majority of Scots.
The Yes Declaration states: "I believe it is fundamentally better for us all, if decisions about Scotland's future are taken by the people who care most about Scotland, that is, by the people of Scotland. Being independent means Scotland's future will be in Scotland's hands."
The announcement of the millionth signature was made at an event attended by the Proclaimers at Dynamic Earth in Edinburgh.
The chief executive of Yes Scotland, Blair Jenkins, said breaking the one million barrier at this stage was a "clear indication" that the pro-independence campaign was on "a winning trajectory".
'Great confidence'
He said: "We are hugely grateful - not just to the one million plus people in Scotland who have now signed the Yes Declaration, but also to our many thousands of volunteers all around the country who have worked so hard to help us reach this target with just under a month still to go.
"More and more people are waking up to the fantastic opportunities created by a Yes vote. People realise that only with a Yes can we protect our NHS and other public services, grow our economy to create better jobs, and make Scotland a fairer society.
"Today's announcement is a clear indication of the level of support we're getting, and it gives us great confidence as we work towards securing a Yes majority on 18 September."
Yes Scotland said that the precise number of signatories was 1,001,186 at 16:00 on Thursday.
A spokesman for Better Together said: "Whilst the nationalists spend a lot of their time talking to nationalists, we are focused on convincing those who have yet to make up their mind that we can have the best of both worlds for Scotland within the UK.
"We can have what the majority of Scots want without taking on all the risks - more powers for Scotland guaranteed, backed up by the strength and security of being part of the larger UK.
"We should say No Thanks to putting that at risk on 18 September."
Just over four million people will be eligible to vote in the referendum on 18 September, when voters will be asked: "Should Scotland be an independent country?"