Scots businesses 'held back by export barriers'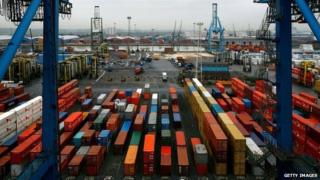 Four in 10 Scottish businesses want to grow internationally but feel they are being held back by export barriers, a trade survey has revealed.
The study found more than half of Scottish firms do not export and are unlikely to do so in the future.
That is despite 52% claiming they do not have enough business domestically and 91% stating that growth is a priority.
A total of 372 businesses responded to the latest International Trade Survey.
Increased regulation and a lack of support, funding and research were cited as the main barriers to export growth.
The survey found that:
65% of non-exporters feel they do not have the right service or product
40% of businesses have ambitions to grow internationally
36% of potential exporters say increased funding and support will encourage them to export for the first time
35% of exporters say better market access could most improve ability to increase sales.
Liz Cameron, chief executive of the Scottish Chambers of Commerce, said it was clear not enough was being done to create a sense of confidence to export.
She said: "The survey indicates that we are reliant on Scotland's home market. In order to sustain growth and create new opportunities, we have to be outward-looking.
"Scotland's business community need to be better informed that global markets want to buy the products and services we have to offer.
"If we are serious about stimulating growth and seizing international opportunities for the Scottish economy, we must tackle these barriers head-on."
'Positive signals'
The survey found the majority of exporters and potential exporters in Scotland look to Europe, Asia (including the Middle East) and to the Americas for export markets.
It also revealed 59% of businesses in Scotland do not think the UK should leave the EU and 56% do not think the UK should join the Eurozone.
Liz Cameron added: "The hard work of Scottish businesses is shining through as Scotland's economy gives us positive signals.
"Orders are increasing, employment is on the up and, overall, businesses are more optimistic about the future of their business.
"We know that Scotland's innovation and people are its strength so we must keep our finger on the pulse, making sure we tackle the barriers preventing us from doing business outside of Scotland."