Grants awarded to repair historic buildings across Scotland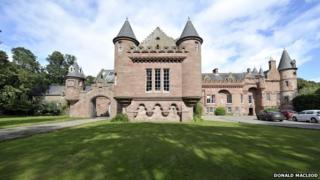 More than £1.5m has been awarded to help repair seven historic buildings across Scotland.
The restoration work is being funded by Historic Scotland's Building Repairs Grants scheme.
Culture Secretary Fiona Hyslop made the announcement while visiting Hospitalfield House in Arbroath, which will receive £500,000.
Other buildings to receive funding include the 19th century Aberdeen Music Hall and Campbeltown Town Hall.
Ms Hyslop said: "We are incredibly lucky in Scotland to have a built heritage which is the envy of the world.
"By investing in these important buildings we are not just ensuring the protection of these vital, tangible connections to our past, but also ensuring that they play a prominent role in the future of their communities."
She added: "Hospitalfield is a great example of a site which has served a range of purposes throughout its long and distinguished history and now, thanks to the support of Historic Scotland, Creative Scotland and others, a new chapter in its history can be opened.
"I'm sure that Hospitalfield will serve as a cultural hub for the people of Angus for many years to come."
The full list of recipients and their awards features Campbeltown Town Hall, Argyll and Bute (£264,480), Hospitalfield House, Angus (£500,000), Aberdeen Music Hall (£222,062), Castle of Mey, Caithness (193,440), The Haining House, Selkirkshire (£371,260), Craig Castle, Aberdeenshire, (£13,598) and Hans Hamilton Tomb, East Ayrshire (£7,490).