Iraq crisis: Church of Scotland calls for Westminster debate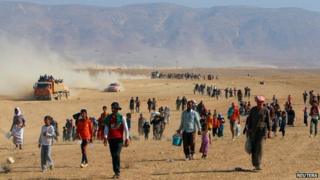 The Church of Scotland has urged the prime minister to recall parliament at Westminster so that MPs can debate how best to respond to the crisis in Iraq.
The Kirk said the UK should embrace those in need of asylum and has called for money and prayers to assist the humanitarian work on the ground.
Islamist fighters have seized vast areas in northern Iraq.
The UK has sent aid to Iraq but the church has called for more action to tackle the "brutal regime".
Thousands of refugees have fled from militant group Islamic State (IS), which is reportedly targeting Iraqi Christians and members of the Yazidi religious sect.
'Generous people'
The UN has declared the situation in the country a "level three emergency", its highest level of humanitarian crisis.
The RAF has been making aid drops to people fleeing IS fighters, while the US has been carrying out airstrikes.
Earlier this week UK Foreign Secretary Philip Hammond said Westminster should not be recalled in light of the crisis in Iraq.
Speaking to BBC Scotland, the Moderator of the General Assembly, the Right Reverend John Chalmers, said: "Can we have it on our conscience that we did nothing and left people stranded, when we could have done something at a little cost to ourselves?
"Along with this I am asking people across Scotland this Sunday to pray for peace.
"I am also asking people to consider the variety of ways in which they can help this situation, by giving money, by thinking about how we can be generous as a people."
A statement sent to David Cameron by leading members of the Church of Scotland says: "Some of the atrocities committed by Islamic State on vulnerable civilians including the Christian and Yazidi communities, are too barbaric to imagine and civilised society cannot sit by and do nothing while wanton acts of violence are being carried out by such radicalized extremists.
"We welcome, therefore, our government's commitment to air-drops to those caught in this most desperate humanitarian disaster and we believe that parliament should be recalled in order to debate the human rights, international peace and security, refugee and UK armed forces implications of this deepening crisis."
Church of Scotland members attending services this weekend will also be urged to consider writing to their MPs, signing petitions and taking part in the debate on social media.