Support promise for Scottish fishermen over Russia's food export ban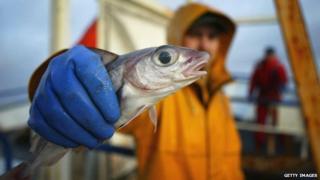 UK Environment Secretary Elizabeth Truss has pledged her full support for Scotland's fishing industry in response to Russia's food export ban.
The minister has branded the ban, which will particularly hit mackerel fishermen, "totally unjustified".
Russia is imposing a "full embargo" on food imports from the EU and US in response to sanctions over Ukraine.
Ms Truss said: "I want Scotland's fishermen to be assured the UK government is ready to support them."
The Department for Environment, Food and Rural Affairs (DEFRA) said work was already being done to open up new international fish markets.
It is hoped new trade in the Far East and West Africa can fill some of the gap left by the potential loss of £16m of Scottish mackerel exports to Russia.
Ahead of a visit to meet mackerel fishermen in Peterhead, Elizabeth Truss said: "I share the concerns of Scotland's fishing industry about the possible impact on their business.
"We will continue to use our clout to lobby hard in Brussels on behalf of Scotland's world-class fishing industry."
DEFRA will work with the Scottish government to look at what support can be provided to mackerel fishermen while alternative markets are sought.
This could include helping with the cost of temporarily storing frozen fish and working with the industry to manage supplies and keep prices stable.
They will also call on the European Commission to consider the merits of any potential World Trade Organisation case to ensure the rules of international trade are upheld.
Scotland's Rural Affairs, Food and Environment Secretary Richard Lochhead held his first meeting with his UK counterpart since her recent appointment.
He said: "We had a constructive meeting and discussed the impact of the Russia trade embargo on Scotland's mackerel fleet and processors and ways we can help them deal with the immediate and longer term challenge the ban presents.
"In particular, I highlighted it would be helpful for the UK to look at export insurance to help the industry with exports to Ukraine and to explore with the EU possible opportunities around banking of quota - as well of course as exploring new markets and increasing domestic demand with consumers and retailers.
"All of which were areas targeted by the five point plan I agreed with the industry in Edinburgh earlier this week."
He added: "This is a really successful sector, used to dealing with changing market conditions and there are lots of avenues for us to explore.
"So the most important thing is that we are fleet of foot and I look forward to pursuing all the options over the coming weeks."
The food ban represents 0.2 per cent of the UK's £18.9bn food exports.
Products covered by the sanctions include poultry, pork, fish, dairy and vegetables.
A DEFRA spokesman said: "While we do not anticipate a significant overall impact to business, Scotland's mackerel industry is expected to be the most affected.
"We will continue to work closely with trade associations and the wider food industry to help them monitor the impact of this ban."