Plan launched to recruit more people to engineering industry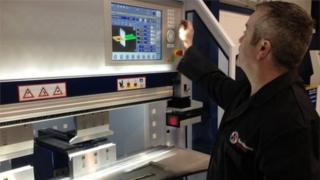 A plan to encourage more people to work in the engineering industry in Scotland has been launched.
It is estimated up to 2,500 jobs are currently available each year but companies can find it hard to recruit staff.
One of the aims is to get more young people and women to consider engineering as a career.
The plan has been developed by the public agency Skills Development Scotland along with industry figures.
The industry is worth more than £9bn a year to Scotland's economy.
Skills groups
SDS chairman John McClelland said: "This action plan is more than just an aspiration, it's a necessity given the fundamental importance of engineering as a key driver of the nation's economy.
"We have worked in partnership with key skills groups, industry stakeholders and employers to develop an action plan which has a pivotal role to play in ensuring that Scotland's engineering and manufacturing business base is promoted and nurtured."
He added: "Only if we do this can we inspire this generation and future generations of young people to pursue a career in engineering and advanced manufacturing, cementing Scotland's place at the forefront of the industry."
Key themes of the action plan include:
Improving awareness of engineering careers among young people, women and engineering graduates
Helping make sure new recruits are ready for their first job and promoting modern apprenticeships
Trying to enhance links between the industry and education.
Selma Hunter, director of engineering firm Doosan Babcock, said the sector in Scotland was showing positive signs of recovery after the recent global downturn.
Ms Hunter, who is also chairwoman of the Engineering Skills Leadership Group, said: "The sector is making solid progress, with businesses at the cutting edge of productivity enhancement and effective skills development.
"We must continue to encourage increased uptake in the modern apprenticeship programme in order to meet future skills needs."
Key industry
Bryan Buchan, chief executive of industry group Scottish Engineering, said the plan followed on from work done at all levels of education including primary, secondary, graduate and modern apprenticeships.
He said: "Each of these areas is essential in promoting one of Scotland's key industry sectors.
"This action plan is important to our recruitment processes, showing just how important our industry is and how its continuing success adds to the economic wellbeing of the country."