Scottish prisoners file thousands of complaints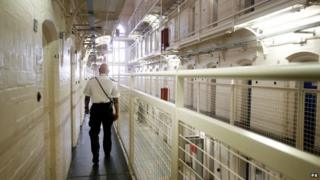 Prisoners submitted almost 9,000 complaints to Scotland's prison service over the past 18 months, according to data obtained by BBC Scotland.
Inmates filed 8,976 grievances about issues such as food, staff and bullying between January 2013 and July 2014.
The most complaints (2,316) were about Glenochil prison near Stirling.
The Scottish government is currently reviewing how these grievances will be independently monitored.
You can explore the complaint data for prisons near you using the SEARCHABLE DATABASE developed by BBC Scotland.
The data - obtained through a Freedom of Information request - reveals which prisons received the most complaints regarding particular issues.
Despite being only the sixth largest prison, Glenochil attracted the most complaints about issues such as food, laundry, bullying, and the prison regime.
Edinburgh prison submitted the most complaints related to staff (117) and prisoners' correspondence (88); Barlinnie received the most medically-related complaints (66).
BBC Scotland also obtained data on the numbers of assaults by inmates on prison staff, but found no correlation between these figures and the levels of complaints.
Monitoring changes
These new figures come in the wake of criticism aimed at government legislation which would have abolished independent prison visiting committees without replacing them with another external body.
Established in 1877, these committees monitor the care of prisoners and the conditions in which they are held.
Members, who are unpaid volunteers, currently get free access to prisons to observe conditions and hear complaints from inmates as part of their work.
Neil Powrie, convener of the Association of Visiting Committees for Scottish Penal Establishments, said he was pleased months of campaigning had resulted in the government amending the draft legislation to replace the committees with independent monitors overseen by the Chief Inspector of Prisons.
He said: "Without unpaid volunteers monitoring all areas of jails and processing prisoner problems and issues they raise with VC members, separate to the internal prison complaints system, the Scottish Prison Service (SPS) would be monitoring itself.
"That would be unhealthy for any civilised society in the 21st Century.
"The prisons are closed societies and not open to the same level of public scrutiny as schools and hospitals."
Mr Powrie said the complaints data was not necessarily representative of conditions in Scotland's prisons.
"Each complaint is an individual story and each prison has a different type of prisoner and different challenges, and it would be wrong to paint a black picture of any one prison based on such basic data."
A spokesman for the SPS added that while it takes all complaints seriously, and can help identify shortcomings, a disproportionate number of grievances are filed by sex offenders.
"They are among the more prolific complainers, as well as particular individuals, which tends to skew the results for certain establishments such as Glenochil where half of the Scottish sex offender population is based," he said.
"And in a closed, contained environment like a prison, issues which would not excite you on the outside suddenly become a lot more important.
"So people complain about issues like food - if you get fed-up with food in a particular restaurant, you go to another restaurant but people in jail aren't able to do that."
Complaints must be filed to the SPS directly, but prisoners can then contact the Scottish Public Services Ombudsman if they are unhappy with a decision.
Ombudsman figures show only a fraction of prisoner complaints were the subject of appeal in 2012 (318) and 2013 (311).
Prisoner complaints between January 2013 and July 2014
Prison
Number of complaints
Top three most complained about subjects
Aberdeen
122
Medical, staff, and property
Addiewell
220
Property, prison regime, and staff
Barlinnie
688
Property, medical, and prison regime
Cornton Vale
151
Staff, physical environment, and property
Dumfries
361
Confidential access, food, and property
Edinburgh
1,347
Property, prison regime, and staff
Glenochil
2,316
Confidential access, gym, and property
Grampian
224
Prison regime, medical, and staff
Greenock
51
Staff, visits, and medical
Inverness
101
Property, home detention curfew, and visits
Kilmarnock
151
Work, property, and staff
Low Moss
1,114
Property, prison regime, and food
Open Estate
179
Home leave, confidential access, and food
Perth
526
Property, prison regime, and food
Peterhead
64
Food, staff, and physical environment
Polmont
289
Confidential access, property, and prison regime
Shotts
994
Prison regime, food, and property