Scottish independence: Government reveals green plan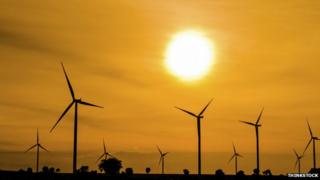 The Scottish government has published a report which, it said, highlights the environmental benefits of independence.
The paper stresses the SNP's commitment to ensure environmental protection is at the heart of a written constitution.
The move has been welcomed by environmental campaigners.
But Scottish Labour said the document contained nothing new and insisted the Scottish government already has the powers it needed to protect the environment.
The report highlights what the Scottish Government calls the "five green gains of independence":
Enshrining environmental protection in a written constitution
Creating a nuclear-free nation
A fairer share of EU funding to target at environmental schemes
Using improved representation in Europe to drive the green agenda
Championing action on climate change at the "international top table"
The environment minister, Paul Wheelhouse, told BBC Scotland News the introduction of stronger measures to protect the environment was crucial.
He said: "We may not stop and think about it, but the environment is absolutely crucial and underpins everything we do in our economy.
"If we look at our world-renowned food and drink industry, it would not be a success if we did not have a pristine and quality environment.
"The water we drink, the air we breathe, and the food we eat all depend on the protection of our environment."
White paper
The "five green gains" were outlined in the white paper on independence, which the Scottish government published in November 2013.
But the publication of today's report is being welcomed by environmental campaigners as an indication of the Scottish government's commitment to environmental issues.
Dr Richard Dixon of Friends of the Earth Scotland said: "This paper makes a number of welcome promises on how the environment would be protected in an independent Scotland.
"A written constitution enshrining the importance of the environment is probably the single most powerful environmental argument in favour of a yes vote.
"Those who wish to stay as part of the UK need to show us how they would deliver something as powerful."
Labour
Opposition politicians said the Scottish government is failing to use the powers it already holds to protect the environment.
Scottish Labour's environment spokeswoman Claire Baker said: "If we are to be honest in Scotland in how we tackle our environmental targets this is about political will and not constitutional change.
"Meeting our environmental challenges in the modern world needs co-operation and partnership working within the UK, across Europe and internationally.
"Putting a border between Scotland and England is not going to help that."