Andy Coulson faces series of perjury charges over Tommy Sheridan trial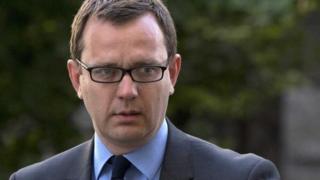 Former Downing Street director of communications Andy Coulson faces a series of perjury charges over the Tommy Sheridan trial.
Mr Coulson, 46, is alleged to have lied while giving evidence at the trial on 9 and 10 December 2010.
He is accused of knowing there was a culture of phone hacking at the News of the World while he was editor.
The case was called for the first time in public at the High Court in Glasgow.
It is alleged he knew of instances of phone hacking involving murdered schoolgirl Milly Dowler, Home Secretary David Blunkett's mistress Kimberley Quinn and actor Daniel Craig.
Mr Coulson, of Preston, Kent, is also charged with knowing that payments of about £2,750 were made to corrupt police officers by a journalist between 1 December 2002 and 26 January 2007.
He was not present in court but was represented by Murdo MacLeod QC. No plea was entered on Mr Coulson's behalf.
Swingers' club
Former Scottish Socialist Party leader and Solidarity MSP Mr Sheridan was awarded £200,000 in damages after winning a defamation case against the News of the World in 2006.
The now defunct tabloid printed allegations about his private life, which included claims that he visited a swingers' club and cheated on his wife.
Mr Sheridan was later jailed for three years for committing perjury during the case. He has continued to maintain his innocence.
Papers from the court allege that, while giving evidence at the Sheridan trial, Mr Coulson falsely claimed he did not know private investigator Glenn Mulcaire and had not exchanged emails with him.
It is claimed he knew that Mr Mulcaire and journalist Clive Goodman "engaged together" in phone hacking, but said in evidence he did not.
It is alleged he knew Mr Goodman paid Mr Mulcaire a total of £4,600 but claimed in evidence he was unaware of payments.
Mr Coulson also allegedly said he only knew of a "very unfortunate case" of hacking by Mr Goodman when in fact he knew of a culture of hacking.
A further hearing was set for October.
The court was told a trial would not take place before January next year.