Tommy Sheridan's perjury conviction to be reviewed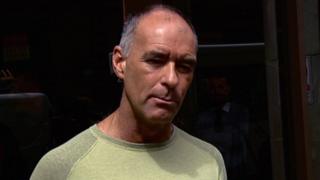 Tommy Sheridan's conviction for perjury is to be reviewed by the Scottish Criminal Cases Review Commission.
The former Scottish Socialist Party leader and Solidarity MSP was awarded £200,000 in damages after winning a defamation case against the News of the World in 2006.
He was later jailed for three years for committing perjury during the case.
Mr Sheridan, 50, has claimed new evidence will prove he was the victim of a "criminal conspiracy".
The SCCRC has now agreed to review the conviction and the case has been allocated to a senior legal officer for investigation.
It is anticipated the investigation will take several months to complete.
The SCCRC will then decide whether the case is to be referred to the High Court for a full appeal hearing to take place.
'Detailed analysis'
Mr Sheridan said: "It has taken a frustratingly long time to progress but at last the SCCRC has the files and my appeal against conviction has been assessed and considered worthy of more detailed analysis.
"I am absolutely confident my unsafe conviction will eventually be quashed and my name will be cleared."
His solicitor Gordon Dangerfield added: " I'm very pleased at the commission's very prompt decision to review the conviction.
"This is obviously an important step forward in the process of having Tommy's conviction appealed and overturned.
"I consider that the evidence we have gathered in support of the appeal is utterly compelling."
He added: "In my view, that evidence demonstrates very clearly that the conviction was a shocking miscarriage of justice, and I'm very much looking forward to the commission's own independent investigation and decision."
A spokesman for the SCCRC said: "We can confirm we are reviewing the case."
Mr Sheridan's perjury conviction stems from his defamation case against the News of the World in 2006.
Swingers' club
The now defunct tabloid printed allegations about his private life, which included claims that he visited a swingers' club and cheated on his wife.
He was awarded £200,000 in damages after winning the case against the newspaper at the Court of Session in Edinburgh.
However, in 2010 he was found guilty of perjury after a trial at the High Court in Glasgow.
Mr Sheridan - who was freed from prison after serving just over a year of his three-year sentence - has always maintained his innocence.
In 2011, he was refused leave to appeal against the perjury conviction.
His legal team wanted to argue that he had been denied a fair trial because of the amount of publicity generated before it got under way, but senior judges found the case was "not arguable".
In cases where there has already been an unsuccessful appeal or leave was previously refused, the only route back to appeal judges is via the SCCRC.