A congregation of the great and the powerful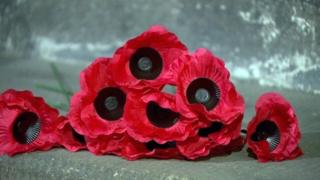 A grand setting. Glasgow Cathedral, few grander. A congregation of the great and the powerful. Royal, military, diplomatic, political - from Scotland, from the UK, from the Commonwealth.
And yet it was the voice of a single Scottish schoolgirl which resonated most powerfully in a service designed to commemorate World War I.
Kirsten Fell, now 15, from Dunbar, spoke eloquently and with evident conviction of the impressions left upon her by a school visit to Flanders - where she laid a solitary poppy upon the grave of an unknown soldier.
She described her emotions of inadequacy, of feeling "so small…so tiny". But she spoke too of how her outlook had been transformed by identification with the combatant, described like thousands more as "known to God".
Her silent, appreciative listeners witnessed her final declaration: "I will remember my soldier. Forever".
Fine words, elegantly expressed. For this was a service of remembrance. Not celebration. There was no definitive sermon - because it was openly recognised that there is no single, definitive verdict on this conflict.
'Inexpressible sadness'
The Cathedral Minister, the Rev Dr Laurence Whitley, deftly explained that there remained mixed feelings to this day. "Inexpressible sadness" competing with a recognition of "selfless courage".
There were the words written by soldiers at the front, retold by today's officers or leaders. The Scottish captain who summed up his surroundings in 1914 as "a little corner of hell".
All the more powerful when one reflects that this was a formal, establishment commemoration in the high surroundings of an ancient cathedral - attended by Prince Charles, the Prime Minister, the First Minister and many, many more.
No protest meeting this. No gathering to read from the works of Siegfried Sassoon or Wilfred Owen, to reflect bitterly upon "the monstrous anger of the guns".
Rather, the underlying thread was of pride and patriotism, of vigorous support for the endeavour. Dr Whitley's conclusion was that, for most, the conflict was "was simply seen as a just and noble resistance to evil and oppression."
It is all the more striking, then, that there was a calculated sense of balance - reflecting the ambivalence which existed a century ago and persists today.