Glasgow 2014: Large TV audience for closing ceremony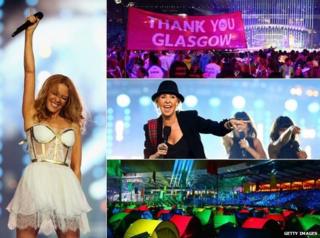 Almost eight million people tuned in to watch Lulu and Kylie Minogue perform at the closing ceremony of the 2014 Commonwealth Games in Glasgow.
The finale at Hampden on Sunday night was shown live on BBC One and attracted a peak audience of 7.7 million.
That was down from the 9.4 million peak who watched the opening ceremony at Celtic Park on 23 July.
The opening and closing ceremonies for the London 2012 Olympics attracted TV audiences of more than 23 million.
Lulu opened proceedings at Hampden on a huge shooting star-shaped stage in the centre of the pitch.
Athletes then emerged from almost 700 tents as 2,000 volunteers played the parts of festival goers.
Australian singer Kylie Minogue performed a seven-song set and the show ended with a mass Auld Lang Syne and spectacular fireworks display.
The Gold Coast in Australia will host the next Games in 2018.