Social media says goodbye to Glasgow's Games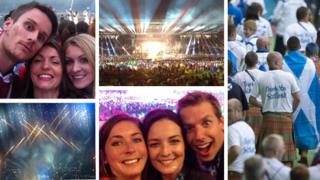 The aim had been to deliver an extravaganza that showed the very best of Glasgow, while providing the backdrop for a sporting competition that went beyond all expectations - and this year's Commonwealth Games certainly did not disappoint.
But, after 11 inspiring and historic days, this was it - the curtain call.
Hampden Park had already seen plenty of magic during a packed athletics schedule but now it was taking centre stage for a different reason - the Closing Ceremony.
Organisers dubbed the theme of the show as "All Back To Ours," with the idea being that it represented a "typical night out in Glasgow".
Well, if your night out usually includes 40,000 spectators, fireworks, people from around the globe and renowned music stars thrown in for good measure, then that is exactly what it was.
Social media had been a hub of activity during the business-end of the Games, and now was no different, as Twitter came alive with people giving their verdict on the evening that saw Glasgow hand the baton over to the Gold Coast...
The athletes were looking forward to it, too…
Was this Tweet, from Sir Chris Hoy's wife, during the build-up a sign to expect the unexpected?
Back to the serious stuff, and, when things finally got going, the response exemplified the humour typical of Scots…
And it was some home-grown music royalty who kicked the night off with a bang…
This led us into the hosts passing the reins on to their successors…
Despite the heavy hearts, the plaudits rolled in for an incredible time…
There was no doubt which Australian songstress stole the show…
It seems she enjoyed it too…
Not everyone was overjoyed with the Ceremony - and many were in agreement when voicing their opinions on what was missing…
With Caledonia and Auld Lang Syne ringing around Hampden to signal an end to the Games, people bought in to the feel-good factor and positivity...
All in all, taking in the response of the social sphere, it seemed various elements combined to ensure Scotland said goodbye to the Commonwealth Games in style.
And, with that, there is only one thing left to say…