Glasgow 2014: Praise heaped on 'best Games ever'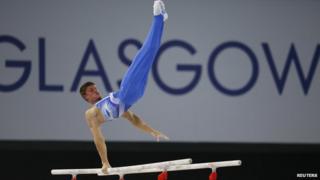 The people of Glasgow, as well as volunteers, crowds and athletes, have drawn widespread praise after a "fantastic" Commonwealth Games.
Team Scotland's boss said Scottish athletes had exceeded expectations and "galvanised the country".
There was also praise from First Minister Alex Salmond for those who had helped to deliver the "best and friendliest Commonwealth Games ever".
Their comments came as Games organisers prepared for Sunday's closing ceremony.
Mr Salmond said tens of thousands of visitors had been made to feel at home during the Commonwealth Games, with Scotland extending "the warmest of welcomes".
Writing in the Sunday Herald, Mr Salmond said everything about the Games had been a huge credit to the city and to Scotland.
He described Scottish athletes - who are celebrating a record haul of more than 50 medals - as "fantastic".
"Hearing the national anthem in venues across the city has been hugely inspiring and emotional, and we have celebrated every medal as if it was the most important one," he said.
"But, we aren't just celebrating our medal winners; every single member of Team Scotland has been incredible and their performances have done Scotland proud."
Deputy Prime Minister Nick Clegg, who was in Edinburgh visiting the Murrayfield Wanderers rugby ground, said: "On the last weekend of the Commonwealth Games it's a great weekend to celebrate sport, and how sport brings people together.
"It's been a very proud moment for Glasgow, for Scotland and indeed for the United Kingdom that the Commonwealth Games have gone so successfully. They have really been a wonderful festival of outstanding sport."
The leaders of some of the teams competing praised the planning behind the Games and the welcome they had received.
England chef de mission Jan Paterson said it had been a "fantastic experience" throughout.
She added: "Every single member of Team England has received the warmest of welcomes from the moment they arrived in Glasgow to their event finishing and that has made these Games so very special.
"We would like to publicly say thank you to the volunteers, fans in the stadium and the people of Glasgow who have played such a pivotal role in making these Games a success and so enjoyable for us."
Team Scotland chef de mission Jon Doig said Scottish athletes had "delivered for Scotland and themselves, their families and local communities".
Mr Doig said: "I couldn't be more pleased, they've been a fantastic group of people to work with and have bonded together so well.
"We had a team camp and I could see in the sea of 300 people the determination, excitement in the minds of these athletes.
"I could see at that stage we were going to be delivering something special, and they really have.
"I don't think they quite know how they have galvanised the country, but they will find out over the next week and month."
Mr Doig added: "This is no accident, this success. The support structure has been put in place in the last eight to 10 years to allow the athletes to do what they've been doing.
"There's also a change in attitude - there are people coming out knowing they can succeed at world level, they can take on the world's best and perform."
The chairman of Commonwealth Games Scotland, Michael Cavanagh, praised the athletes, supporters and workforce for making the Games such as success.
He said: "We'd like to thank everyone who's been involved but in particular the people of Glasgow, the people of Scotland, the 15,000 Clydesiders who have made that warm welcome that we have been hoping for just come to life, and of course a fantastic workforce, with the organising committee and the partnerships that have really delivered on the day.
"And, of course, the athletes - they have just come to the house and brought it down, so to speak."
David Grevemberg, chief executive of Glasgow 2014 said it was "a day for thank yous".
He praised the athletes, the workforce, those involved in organising the games, sponsors, the media and the baton bearers who took part in the Queen's Baton Relay.
He added: "A massive thank you goes to the people of Glasgow who embraced the Games and welcomed all athletes and visitors with sensational support, smiles and… selfies."