Call for new London air links to benefit Scotland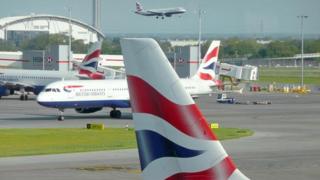 An independent economic group has called for the future expansion of London airports to take Scotland and other UK regions into consideration.
The Scottish Council for Development and Industry (SCDI) has also lobbied for action to increase long-haul services from Scottish airports.
The SCDI was responding to an Airports Commission consultation on the UK's existing airport capacity.
It says air access through London is "vital" for exports and industry.
The Airports Commission is examining the need for additional airport capacity in the UK and will make recommendations to the UK government on how this can be met in the short, medium and long-term.
It is currently consulting on the domestic and international services provided by regional airports in London and the South East, outside of Heathrow and Gatwick.
The SCDI has had direct discussions with commission chairman Sir Howard Davies, where it made clear the importance of connectivity between the capital and UK regions like Scotland.
'Economic growth'
Group director of policy Gareth Williams said air access through a UK hub in London was of "strategic importance" to Scottish exports and the economy.
"Scotland is home to some of the UK's leading exports," he said.
"It is vital that we halt the deterioration of our air connections and we secure for the long-term frequent services from our city regions to support the economic growth of our industries.
"It is heartening that Sir Howard seems to understand how vital our connectivity to and through London is, and that he is making it clear to all those proposing new runways that they must demonstrate how it will benefit Scotland and other UK regions."
The SCDI has also called for a cut in fuel duty in a bid to boost the number of long-haul services flying from Scottish airports.
Mr Williams said: "Scotland's major airports are showing growth again, and the success of the Commonwealth Games provides a great opportunity to stimulate global interest in tourism and business tourism in Scotland.
"We therefore want the airports to be able to attract as many direct international routes as possible.
"The commission has asked about the key barriers for new services at regional airports and it is clear that the impact of the highly uncompetitive level of air passenger duty must be addressed."