Glasgow 2014: Where Commonwealth Games athletes let their hair down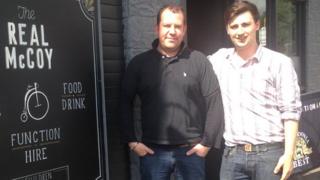 There are police with rifles walking around in Dalmarnock in Glasgow's East End. I see a sniper perched on a high rise flat.
"This pub has the tightest security in the world," laughs bar manager Alex Hannah.
"It used to have steel plates in the windows.
"On the inside it was all Celtic Football Club memorabilia - the walls were bright green.
"The toilets were used in Trainspotting - so I'm told."
Mr Hannah's referring to the scene dubbed "the worst toilet in Scotland" from the 1996 film adaptation of Irvine Welsh's famous novel.
The same toilet was used for a scene where an American tourist gets assaulted and robbed.
Today, The Real McCoy pub on London Road looks surprisingly cool and contemporary.
In fact, it looks every bit the kind of bar that would give a warm welcome to any tourist passing through.
Just as well, given about 4,500 Commonwealth Games athletes are staying nearby - hence the tight police security in the area.
"We've had a lot of athletes come in. Our locals have embraced them - they've had pictures taken with them," says Mr Hannah.
"One country's team offered to wash the dishes if they ran out of money for drink.
"Another night, we had a Scottish team one side of the bar, and their opposition that day, Australia, on the other side.
"The competition between the two countries was brought to the bar - they were trying to see who could enjoy themselves the most and be the loudest."
However, Mr Hannah won't be drawn on any other tales about individual athletes, despite a knowing raised eyebrow from his colleague.
"People come to a pub to get away from things and celebrate," he laughs.
"I can't tell you, it's not fair on the people."
Later, I meet another group of athletes who are celebrating ... not success on the field, but the end of Ramadan.
It's hard to believe that athletes could be competing at the Games during a month they are fasting from dawn until sunset.
However, three members the Malaysian rugby sevens team appear to have done that.
They admit to attracting a lot of interest as they parade Glasgow's streets in their bright national dress.
Further down the road I see some more "kerbside colour" in the form of roller skaters. Nearby policemen look bemused.
Meanwhile, a local hairdresser is clearly taking it all in her stride.
Louise McKinnon, who runs Three Little Birds, tells me about the various athletes who've been in her salon over the past few days.
"I've had five weightlifters. One wanted to run away with me and take me home!" she says.
"An athlete from Kenya walked in and said 'can you cut a black man's hair'.
"I said 'obviously, it's quite easy'.
"I used to have a shop near the Nautical College and I used to get lots of black students coming in, so I'm used to cutting that hair-type.
"He was really surprised I was able to do it without needing to be told what to do."
As I pack my camera away and get set to leave, in a weird twist, an enthusiastic Indian journalist asks to take my photograph.
I decide it's probably best to do what most Dalmarnock residents appear to be doing this week.
I oblige, smile and don't ask why.