Glasgow 2014: Operation aims to keep city moving during Commonwealth Games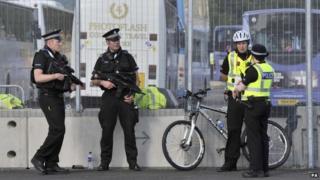 A huge logistical operation is under way to keep Glasgow running smoothly as the first sporting events get under way at the Commonwealth Games.
Police Scotland is directing security measures, aided by about 2,400 members of the armed forces, prison officers and 17 private security firms.
Some 15,000 civilian volunteers, or Clyde-Siders, have also been deployed.
The Queen formally opened the Games following a spectacular ceremony at Celtic Park on Wednesday night.
Tight security is in place around all venues, in tandem with a strict traffic management plan.
Spectators should be prepared for queues as they will face tight airport-style security measures.
Tickets, bags and pocket contents all face inspection.
The advice is to travel light - leave big bags at home. Any bags brought into the venues must be soft-sided and small enough to fit under the seats.
Each spectator can only bring in a small amount of food and a non-alcoholic drink of 500 ml or under.
Dedicated Games lanes to allow athletes and officials to travel around the city came into force on Monday and will remain until events finish on 3 August.
Like bus lanes, no cars, taxis or bikes are allowed and anyone caught making unauthorised use will be liable for fines of £50.
Cars parked on the routes will be towed away and it will cost £150 to get vehicles released.
Extra train and bus services are also running across the Glasgow network for the duration of the Games.