Glasgow 2014: City 'buzzing' ahead of Commonwealth Games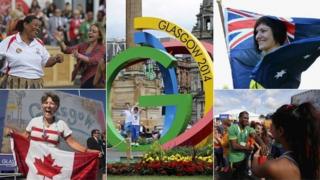 Glasgow is "buzzing" one day before the Commonwealth Games, according to the man in charge of delivering the event.
David Grevemberg, chief executive of Games organiser Glasgow 2014, said the city was "just coming alive" and people wanted to be part of the spectacle.
He said some tickets were still left for events, but they were "going fast".
Glasgow has taken on an international hue as more than 4,500 athletes and 2,000 officials from 71 nations and territories descend on the city.
Speaking on BBC Radio Scotland's Good Morning Scotland programme, Mr Grevemberg said the Games had brought a new energy to Glasgow.
'Great ceremony'
"The city is just coming alive, people are just being a part of this and it's fantastic," he said.
"We still have a few tickets left and we want people to snap them up as they are going fast.
"It's all just moving along, with one day to go and a great opening ceremony planned for tomorrow night at Celtic Park."
Glasgow 2014 has given a few more hints about the ceremony itself by stressing they would give Glaswegians the main voice in the two-hour spectacle.
Head of ceremonies David Zolkwer said: "Given Glasgow is such a generous, hospitable, warm city, it seemed natural to think about how we behave as a host.
'Humour and warmth'
"So the ceremony is about all of us - being interested in the people we are inviting into our house and hearing their stories, and looking more at what we have in common than what differentiates us.
"It's got humour, warmth, celebrating what we have in common. Having said all that, it will always feel like it was created in Glasgow."
He added: "So, although we are telling a universal story, we are telling it with a distinctly Glaswegian accent, which means we are going to be irreverent, funny, principled, sincere, inclusive, personal, direct.
"We are talking down the lens - we are not asking the world to watch a show."
The opening ceremony will get under way at 20:00 on Wednesday at Celtic Park.
It will be attended by the Queen and heads of state from around the Commonwealth.
Forging links
With one day to go before the ceremony, a conference is taking place in Glasgow to forge trade links across the Commonwealth.
The Commonwealth Games Business Conference, which opens on Tuesday and concludes on Wednesday, will feature speeches from Scotland's First Minister Alex Salmond, Governor of the Bank of England Mark Carney, senior UK Cabinet ministers and UK Trade Minister Lord Livingston.
The event aims to provide a platform for businesses to meet and create new partnerships.
An audience of more than 200 chief executive officers and political leaders from across the Commonwealth are due to attend the event at Glasgow University.
It is jointly hosted by the Scottish and UK governments and their trade and investment agencies, Scottish Enterprise and UK Trade and Investment.
Key areas for discussion include innovation, infrastructure investment, sustainable trade and financing economic growth.