Protesters join rally for Gaza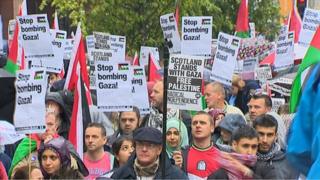 Hundreds of people have gathered in Glasgow to call for an end to Israeli military action in Gaza and "justice and freedom" for Palestine.
Police said about 1,500 took part in the march and rally in the centre of Glasgow.
Another event was being held in Aberdeen.
More than 300 Palestinians have been killed since the start of the wider Israeli operation on 8 July, according to officials in Gaza.
One Israeli soldier and two Israeli civilians have been killed.
Labour MP Anas Sarwar, who attended the rally, said: "The people of Glasgow are standing shoulder to shoulder with the people of Palestine."
He said there was a "real injustice" happening there that the world could not ignore.
"And all those who believe in peace, believe in justice, believe in fairness and equality must now find their voice," he added.
The protesters later marched to the BBC Scotland headquarters at Pacific Quay.