Glasgow 2014: More village bug cases as toilet identified as source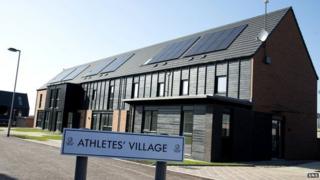 The number of workers at the Commonwealth Games athletes' village with suspected norovirus has risen to 53.
An additional 18 members of the security team have reported symptoms of the diarrhoea and vomiting bug.
Two people, who were among the 32 cases already announced, have now been discounted.
A temporary toilet, which was used by the workforce, has been identified as the probable source.
Earlier, First Minister Alex Salmond said the problem arose from a "temporary facility" in an area used for security.
He said it had been removed, the area cleaned and appropriate measures taken to contain the problem.
A statement from NHS Greater Glasgow and Clyde (NHSGGC) said a temporary toilet facility, used by a small number of workforce, had been closed.
No athletes or team officials have reported symptoms.
The health board said it was working with Health Protection Scotland, environmental health officers at Glasgow City Council and the Games organisers and contractors to investigate, monitor and contain the outbreak.
Dr Gillian Penrice, consultant in public health medicine for NHSGGC, said: "It is important to remember that norovirus is extremely common and the numbers are consistent with what is happening in the wider community.
"It is the most common stomach bug in the UK and is usually mild and generally lasts for 24 hours.
"The symptoms being experienced by these individuals are mild and none are giving any cause for concern as a result of the virus."