Family charities set to benefit from lottery funding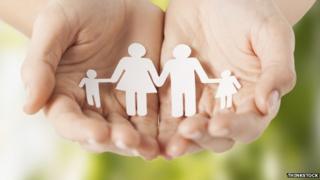 Families across Scotland are set to benefit from a number of grants from the Big Lottery fund.
Five projects that aim to help parents and children have been awarded monies.
In total, 13 projects will share a total of £7.4m in awards from the fund's Investing in Communities programme.
An additional 75 grants worth £600,000 across Scotland were also announced as part of Big Lottery Fund Scotland's Investing in Ideas initiative.
The largest award was given to charity Children 1st, which will use its grant of £966,177 to run national kinship care support services in Ayrshire, East Lothian and Moray and provide additional national telephone helpline support.
The award was welcomed by the charity, which says the money would allow it to improve the lives of "hundreds" of children across Scotland.
Another family-orientated charity to receive an award is Action for Children. The group has been given £476,917 to launch a new service aimed at providing support for new fathers aged 14-25 as well as outreach programs for young men who feel isolated.
Build knowledge
Fiona Steel, operational director of children's services at Action for Children Scotland, said: "This new service is a first of its kind in Scotland, helping new fathers learn what it means to be a dad.
"Our service will give young fathers the opportunity to build knowledge, learn parenting skills, and gain confidence, helping them to have a positive impact on their child's life and really enjoy being a dad."
Other charities to receive funding include Cauldwell Glasgow, which provides support for disadvantage children with learning disabilities.
The Scottish Spina Bifida Association will also benefit from an award of £392,509 to support families in Lothian, Borders and Fife.
Maureen McGinn, Scotland chairwoman of the Big Lotto fund, said: "The aim of our Investing in Communities programme is to support people and communities in greatest need and, now, 13 more projects across the country will be able to do that.
"Five of these groups focus on giving support to children and families facing challenging times or who are at a turning point in their lives.
"We are keen to support many more projects like these and would encourage groups to come and talk to us if they have an idea."
A full list of the projects awarded funding can be found on the Big Lottery Fund Scotland's website.