Glasgow 2014: Call to tackle homophobia within Commonwealth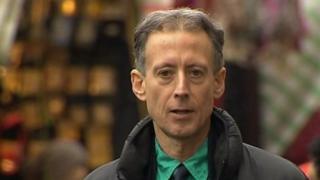 Political campaigner Peter Tatchell has called on Prime Minister David Cameron to speak out against homophobia ahead of the Commonwealth Games in Glasgow.
Of the 53 member countries, 42 criminalise homosexuality.
A Glasgow conference will examine the human rights of lesbian, gay, bisexual, transgender and intersex (LGBTI) people in the Commonwealth later this week.
Mr Tatchell said the countries were in breach of Article 7 of the Commonwealth Games Federation constitution.
Article 7 states: "There shall be no discrimination against any country or person on any grounds whatsoever, including race, colour, gender, religion or politics."
Mr Tatchell has previously written to the organisers of Glasgow 2014 urging them to make sure that all Commonwealth countries competing at Glasgow pledge their commitment to Article 7.
The Peter Tatchell Foundation said 42 Commonwealth countries criminalise homosexuality, with penalties up to life imprisonment in at least seven member states and the death penalty in parts of northern Nigeria and rural Pakistan.
'Non-discrimination'
Human rights campaigners want the prime minister to declare his support for non-discrimination.
Mr Tatchell said: "Given the extreme homophobia and transphobia in most Commonwealth countries, it is very unlikely that most national selection committees would allow a lesbian, gay, bisexual, transgender or inter-sex (LGBTI) athlete to compete at Glasgow.
"David Cameron can help by making clear that such discrimination is incompatible with Commonwealth Games values and rules.
"We want the prime minister to give a lead and set a positive tone by publicly declaring that anti-LGBTI persecution is a violation of the Commonwealth Charter and that LGBTI athletes will be welcome in Glasgow."
A rally will be held at Downing Street, organised by the African LGBTI Out and Proud Diamond Group, with the support of the Peter Tatchell Foundation and Rainbows Across Borders.
The groups have urged LGBTI athletes competing at the Games to come out, if it is safe for them to do so.
They have also called on the UK government to grant asylum to any LGBTI athletes and officials who have a well-founded fear of persecution if they return to their home countries.
On Friday, academics and activists from around the world will attend the LGBTI Human Rights in the Commonwealth conference, hosted by the University of Glasgow.
The one-day event is taking place on the eve of the city's Pride festival.