Scotland 'failing' on benefit fraud by asylum seekers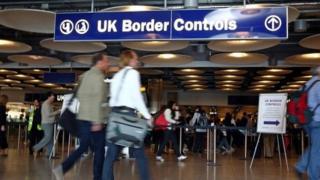 The Chief Inspector of Borders and Immigration has singled out Scotland for failing to tackle benefit fraud by asylum seekers.
John Vine accused the Home Office of failing to combat fraud across the UK and wasting taxpayers' money.
In a newly-published report, he cites problems across the UK.
But he told the BBC that nothing at all is being done in Scotland to tackle the problem, which had brought the whole system "into disrepute".
Mr Vine said that, despite evidence of multiple cases north of the border, there have been no prosecutions and no attempts to recover fraudulent claims.
More than £150m is spent on asylum benefit support each year.
"The Home Office has absolutely no idea how much fraud is taking place in the asylum support system," said Mr Vine.
Financial assistance
"And in Scotland we found there was no effort being made to address fraud whatsoever.
"Whilst it is important to deal compassionately with those claiming asylum and give benefits where they are due, it's equally important, because public money is at stake, to make sure any fraud is tackled effectively.
"And we just didn't find any evidence that this was happening in Scotland at all."
People claiming asylum in Britain can apply to the Home Office for asylum support to pay for living costs, including accommodation and financial assistance.
The system had a budget of £155m in 2013/14 and, at the end of September 2013, 26,731 asylum seekers were receiving support - including almost 3,000 in Scotland.
The chief inspector's report highlighted one case where a claimant was paid £18,000 in asylum support over a period when they also received £74,000 in benefits, an NHS bursary and wages from working illegally.
Taxpayers' money
The claimant was given a 12-month suspended jail term in January last year after being found guilty of committing fraud and using false documents.
Mr Vine found there was "no evidence" of any effort to reclaim the £18,000 of taxpayers' money, even though the offender had £10,500 in the bank.
The offender even continued to receive asylum support payments after their conviction, the report said.
A Home Office spokesman said: "We have fully accepted all of the recommendations in this report and are already acting on them.
"We have increased staff resources on compliance, introduced a national structure for compliance teams and increased our fraud savings target.
"Credit checks are carried out in all cases and further inquiries made where there is a data match, for example with a bank or building society holding information about the person.
"We are determined to protect the taxpayer by ensuring asylum support is only granted where the criteria are met and is withdrawn promptly when eligibility ceases."