Glasgow 2014: Tickets for popular events still available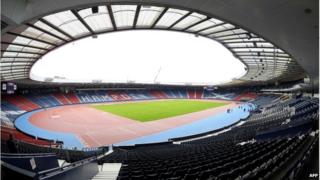 Tickets are available for some of the most sought-after Commonwealth Games events, despite being oversubscribed when they first went on sale last year.
On the Glasgow 2014 ticketing website, customers can still buy seats at a number of medal sessions, including the men's and women's 100m finals.
There is "high availability" for the 5,000m final, in which English Olympic champion Mo Farah is due to compete.
Organisers said the unsold seats were a small part of the overall capacity.
The first phase of ticket sales for Glasgow 2014 ran from 19 August to 16 September 2013, with 2.3 million requests received for the one million tickets available.
Some of the events at the Games were heavily oversubscribed and Glasgow 2014 allocated tickets via a draw.
Availability remains
Now, with the 10 days of sporting competition set to get under way in just nine days' time, there is still a chance to buy seats at some of the so-called "golden ticket" events.
The diving, track cycling, mountain biking, artistic gymnastics and triathlon are completely sold out, but, for other sports, availability remains.
For the 4x100m men's relay at Hampden on Saturday, 2 August, in which Jamaican sprinter Usain Bolt is expected to compete, tickets priced at £90 are still on sale.
There are seats priced at £60 available for the men's 5,000m and 10,000m finals.
Some tickets also remain for the opening and closing ceremonies. It was announced at the weekend that Rod Stewart and Susan Boyle will perform at the opening event at Celtic Park on 23 July, alongside other Scottish acts including Amy MacDonald, Julie Fowlis and violinist Nicola Benedetti.
Glasgow 2014 said it made a number of additional tickets available for public sale, across a number of sessions last month, including tickets for previously unavailable sessions.
It said these were "reallocated after final confirmation from tour groups, participating nations and territories, sponsors and hospitality clients".
'Packed stadia'
A spokeswoman added: "Glasgow 2014 has already sold more than 1.1 million tickets, making this the most successful event in Scottish sporting history.
"Opportunities still exist to attend the Games, particularly in badminton and weightlifting.
"As is normal practice in the final run-up to a major multi-sports games, opportunities will become available across the sports programme as venues reach their final stages of configuration.
"We recommend checking the website for the most up-to-date opportunities and we look forward to there being packed stadia to welcome Commonwealth athletes to Glasgow and Scotland."
In May, organisers released an extra 100,000 tickets for sale, but they were forced to suspend their website and phone line after technical problems caused long delays for those trying to make purchases.
The remaining tickets were then put on sale during a phased release over three days.