Public bodies urged to 'put town centres first' with investment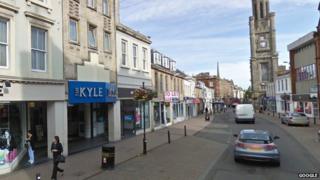 Public bodies across Scotland are being urged to put town centres first when considering new investment decisions.
It is hoped the government plan will "maintain vibrant high streets as a focal point for the local community".
Organisations such as councils, the police and NHS are to be encouraged to invest in town centres and weigh up the impact of relocating.
The Scottish government has backed the Town Centre Review Group which called for the approach to be adopted.
Announcing the "town centre first" plan, local government and planning minister Derek Mackay said: "Our town centres should be attractive and safe places where local people want to spend their time and money.
"When it comes to investment, public bodies adopting the principle are requested to consider town centre locations first, and look beyond immediate pressures when they are making decisions about closing a town centre facility."
'Suitable location'
He added: "We understand that for some businesses or services the town centre may not be a suitable location.
"But in signing up to the principle, public bodies will make sure the rationale for locating elsewhere is evidenced and transparent."
The minister was speaking on a visit to Barrhead in East Renfrewshire, which is one of the first local authorities in Scotland to adopt the principle.
Local councillor Tony Buchanan said: "There has been £80m of council-led regeneration in Barrhead town centre in recent years.
"It is the perfect example of town centre regeneration in action."
Architect Malcolm Fraser, chairman of the town centre review group, welcomed the government's response to the findings.
He said: "This is exactly the result we hoped for."
Scottish Conservative finance spokesman Gavin Brown said: "Unfortunately, the Scottish government seems to have done the opposite of these principles in the last few years.
"Whether it is closing sheriff courts and police stations, or failing to give councils money from the Business Rates Incentivisation Scheme, the SNP has offered no support on this matter whatsoever.
"There is no point in the Scottish government saying it supports this principle when its actions suggest otherwise."