Glasgow 2014: Bowls used by Paul Foster stolen in Troon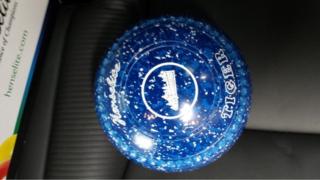 Lawn bowls belonging to Team Scotland bowler Paul Foster have been stolen from a bowling club in Ayrshire.
Police are investigating a break-in at Troon Portland Bowling Club, where he trains, on Monday afternoon.
The three bowls taken were part of a set the four-times world champion has been playing and practising with exclusively since April.
He said he was devastated and would try to replace them but that no two sets are exactly the same.
The bowler added: "I just want to get the bowls back. Even if someone just comes along and just leaves the bowls at the club without anybody knowing I wouldn't take it any further because I would just be so pleased to get them back."
Police Scotland said the theft was discovered by a club official at about 17:30 on Monday.
He contacted officers after finding various items scattered across the men's locker room floor.
The bowls taken were blue with white speckling and feature a distinct picture of Kelvin Hall and the "Henselite" logo. A black and green bag with "Henselite" written on it was also taken.
One remaining bowl from the set had been removed from the trolley bag and left behind in the club locker room.
Foster, 41, a gold medallist in the 2006 Melbourne Commonwealth Games, said: "Taking three bowls is no use to them, and having one is obviously no use to me."
"These bowls were specially shipped over in April for me to use at the Commonwealth Games and I've been practicing with them for the last three months, day-in day-out, to get completely used to them and ready for Glasgow.
"I'm now trying to get another set of the same make and model but even if I do, I know that you won't ever get two sets of bowls that are a hundred percent the same."
Det Insp Fergus Hutcheson said: "The motive for this crime remains unknown. The lawn bowls are distinctive and unique - the bag is also fairly distinctive - and I am appealing to anyone who was at the club on Monday, who may have noticed anything suspicious or unusual.
"Please do contact us as a matter of urgency - it's imperative these items are traced and returned and any information, no matter how insignificant, could assist the investigation of this crime."
The former world indoor champion said he was at a complete loss as to who would want to steal his bowls.
"This is obviously devastating to me and I spent the whole of last night thinking about who it could be, but I've got no idea," he said.
"But with the Commonwealth Games starting in a fortnight's time I need to try and get over it in the next few days and get focused again. But it's easier said than done."