Scottish independence: Better Together says welfare cuts would be needed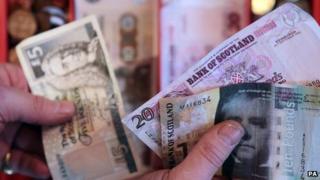 The pro-Union campaign has said that cuts to public spending would be needed in an independent Scotland.
The claim was made on the day of the launch of Better Together's paper on welfare.
The Yes Scotland campaign said that spending on welfare is more affordable for Scotland than for the UK as a whole.
On 18 September, voters in Scotland will be asked the question: "Should Scotland be an independent country?"
Better Together's paper A Sharing Union argues that pensions and benefits in Scotland are more secure as part of the UK where costs of the welfare budget can be shared amongst more people.
It also highlights a report by the Institute for Fiscal Studies (IFS) that said a separate Scotland would need to make public spending cuts following independence.
'Massive Cuts'
Margaret Curran MP, Shadow Secretary of State for Scotland, said: "The experts are clear - if we leave the UK we would have to make massive cuts in public spending. This would hit those who have the least the hardest.
"Leaving the UK would be a leap in the dark for those reliant on benefits or their pension.
"By saying no thanks to separation we can make sure that we protect the most vulnerable in our society from the massive cuts that would have to happen in a separate Scotland."
The Scottish government has set out its proposals for the future of pensions in the paper Pensions in an Independent Scotland and in its white paper on independence.
'More affordable'
Bob Thomson, former Chairman of the Scottish Labour Party said: ''Scotland has generated more tax per head than the UK as a whole in every one of the last 33 years - to the tune of £800 per head extra in 2012/13.
"The reality is that spending on welfare, including pensions, is more affordable for Scotland than for the UK as a whole - and indeed spending per head on the state pension is lower in Scotland than in the UK. The figures show that 38% of Scottish tax revenues are spent on social protection, including pensions, compared to 42% for the UK as a whole.
Mr Thomson was speaking on behalf of Yes Scotland.
He added: "It is extraordinary that Labour are describing as secure a UK welfare system which is cutting £6 billion from welfare support in Scotland, directly cutting benefits to women, children, disabled people and poorer pensioners and which will mean that an additional 100,000 children could be in poverty by 2020 according to the Child Poverty Action Group."