Police appeal after 12-year-old hit by bottle on Glasgow Green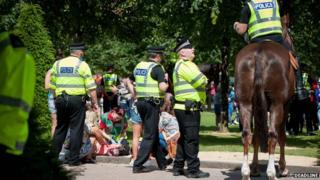 Police have begun an investigation after a 12-year-old girl was hit by a bottle while watching an Orange Order walk in Glasgow on Saturday.
The girl was with a 22-year-old female relative on Glasgow Green when she was struck.
Police said a number of people nearby, unconnected to the pair, were involved in a fight which resulted in the girl being hit by a bottle or similar item.
She was treated for a head injury at Yorkhill Hospital and later released.
Her relative was also hit with the item and suffered a cut to her hand.
Det Sgt Ronnie Payne asked anyone with information to come forward and said the park was very busy with bands, followers and members of the public.
About 4,500 marchers and 4,000 spectators took part in the event.
Eighteen people were arrested, and police said those related to disorder, drinking in public and minor offences.