Scottish independence: Ex-Labour minister Leslie Huckfield backs 'Yes' vote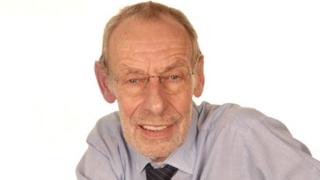 A former Labour government minister has urged the party's voters to back Scottish independence in September.
Leslie Huckfield, Nuneaton MP between 1967 and 1983, now lives in Perthshire. He said the referendum was "an historic opportunity" to implement Labour ideas.
But he said that "won't happen" while Scotland remains part of the UK.
The Scottish Labour Party said most of its voters wanted to stay in the UK and the "Yes" campaign was "looking increasingly desperate".
Mr Huckfield served in Prime Minister James Callaghan's government. He was under-secretary of state for industry from 1976-79, serving under industry minister Eric Varley, and was Labour's frontbench industry spokesman from 1979-83. He was an MEP between 1984 and 1989.
He was elected at the age of 24 in 1967, but left the Labour Party in protest at the Iraq war and "New Labour's continuing political drift".
'Start again'
He moved to Scotland in 2004 and said it "became apparent that this is a country with a veritable passion for social justice".
Mr Huckfield, 72, said few people in Scotland "sufficiently understand or recognise the emerging political agenda in England", which he said "represents the disintegration of many principles and policies to which Scots hold dearly".
"In short, I believe that an independent Scotland is an opportunity not only to free itself from Tories and a UK coalition agenda but also from the agenda of New Labour," he said.
He said a "Yes" vote on 18 September would give Scotland a chance to "start again" and "implement the policies and causes that the Labour Party has traditionally supported".
Blair Jenkins, chief executive of Yes Scotland, said Mr Huckfield's support was a "major boost" for the campaign.
But a Scottish Labour spokesman said: "Everyone knows the overwhelming majority of Labour supporters want Scotland to stay strong in the UK and will be voting 'No' in September to stop Alex Salmond breaking up the country."