Neet figures not a tidy subject matter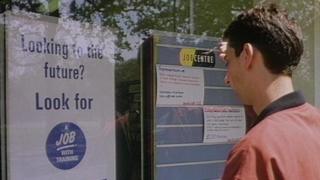 The term Neet is perhaps unfortunate. It can appear dismissive of the young person and, in the west of Scotland at least, sounds very similar to the term for a young troublemaker - ned.
It refers to young people who are not in education, employment or training.
The latest official figures suggest a significant drop in the number of Neets aged between 16 and 19 in Scotland.
That's down from 33,000 in 2012 to 29,000 in 2013 - the lowest number since before the recession and well below the high point of 36,000 in 2010 (a total also reached in 2005).
While the latest drop will be welcomed, in theory, there should be no teenage Neets in Scotland.
That's because the Scottish government guarantees a place in education or training for any 16 to 19 year old who does not have a job.
Although the legal school leaving age in Scotland is still 16, a growing proportion of young people chose to remain in school for a fifth and sixth year - years once largely the preserve of the more academically able students.
Hard to generalise
S4, S5 and S6 now form one senior phase where youngsters choose from a range of courses and qualifications at differing levels of academic difficulty. Some youngsters may spend their fifth or sixth year studying for National 4 or 5 qualifications, or spending some time accessing college courses.
Colleges themselves are now primarily focused on providing vocational courses for teenagers.
So, with so many opportunities, why then are there still teenagers in neither employment or education?
It can be hard to generalise - each individual will have their own story.
For instance, a young person may have fallen behind badly at school - perhaps because of an undiagnosed problem like dyslexia - and dropped out.
They may come from troubled or dysfunctional family backgrounds. Or they may have been excluded from school for bad behaviour or simply fallen in with "the wrong crowd".
There are ways of helping those who are not in employment or education - principally through finding a pathway to help them back into education and gaining the skills to get a job and hold it down.
Helping to reduce the number of teenage Neets substantially over time may require what is known by professionals as "early intervention" in education or social work.
Slippery slope
This could mean working with children or teenagers to nip potential problems in the bud and find the appropriate help and support.
Or it may also mean positive activities such as mentoring - even things like youth clubs and activities to stop bored young people getting on to a slippery slope towards trouble during the holidays.
The Scottish government says it is committed to developing the potential of Scotland's young work-force.
This is as much about helping give each young person the opportunity to realise their full potential and not just about those who might have dropped out or become economically inactive.
A commission chaired by the businessman, Sir Ian Wood, recently made several recommendations to improve vocational education.
The aim is to create a parity of esteem between vocational and academic subjects and help ensure each young person can get something of value from the system.
The government also wants to increase the number of modern apprenticeships in Scotland to 30,000 a year by 2020.