'Smelly' man sought after robbery of disabled woman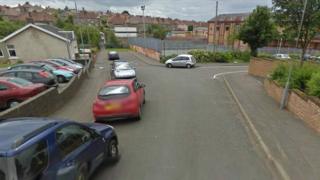 Police hope a strong body odour will help them catch two men who robbed a disabled woman riding her mobility scooter in a North Lanarkshire town.
The men approached and threatened the 60-year-old in Adam Avenue, Airdrie, at around 11:20 on Tuesday, forcing her to hand over a small sum of money.
She described one of the men as being "very dirty and smelly".
Police Scotland has appealed for information about the men, "one of whom is particularly memorable".
The woman was approached near to a footbridge across the railway and the men then made off with a sum believed to be less than £100 along Adam Avenue towards Graham Street.
Police say she was not injured, but Detective Constable Kenny Dalrymple stressed: "This was very upsetting for the lady involved and the men who did this are nothing less than cowards.
'Local supermarket'
"The lady is very petite and frail and uses the motability scooter to get about.
"She had just been at a local supermarket and was heading to a friend's house when the men threatened her.
"We are checking CCTV are the moment and speaking to local people."
The two men are described as being white and in their early 20s.
One is described as 6ft in height, of skinny build, with an offensive body odour and was wearing a dirty cream hooded top and a green and white scarf.
The second man was 5ft 6in tall, of medium build and had on a black zipped top.