Robert Burns 'used mystery editor' on his early work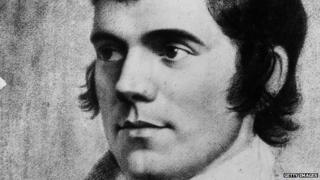 Robert Burns used a mystery figure to help him edit all his early work, a new study has claimed.
Scotland's national bard also worked with the "figure in the margins" to help him achieve public recognition.
The claims have been made by Prof Nigel Leask, who has just finished a major study of all Burns' early prose.
His findings will be discussed at the inaugural World Congress of Scottish Literatures (WCSL) organised by Glasgow university.
Prof Leask discovered notes in Burns' first commonplace book from 1783 - before he was ever published - signed by someone with the initials WR.
Possible identity
He said: "WR was given the task by Burns to read through his commonplace book and choose which works were good enough to go into print.
"He was a kind of consultant and this work resulted in the publication of the Kilmarnock Volume of Poems in 1786.
"Suddenly Burns was launched from obscurity as a tenant farmer in Ayrshire to the most famous poet in Scotland - and the rest is history."
Several theories about the possible identity of WR have been put forward but so far none has been confirmed.
Prof Leask said: "We don't know who WR was - probably a man but it could have been a woman.
"We are very keen to find out. So if anyone knows of someone with those initials who was living in the vicinity of Burns' farms in Ayrshire in the mid-1780s, please get in touch."
The WCSL will bring together academics and experts from as far afield as Australia, Canada, China and the United States.
In total there will be more than 200 speakers at the event, discussing their research into Scottish texts and authors.
Global passion
It runs from 2-5 July, and will also see the launch of the International Association for the Study of Scottish Literatures (IASSL).
It has been formed to raise the status of Scottish literature around the world and promote Scottish authors internationally.
Scottish education secretary Mike Russell, who will open the event, said: "Our literature is the living memory of our nation and reveals how our heritage is interwoven with other cultures and histories.
"The global passion for Scottish writers - from Scott to Burns, Stevenson and countless others - has made a difference in the way our nation is viewed and valued, both by Scots and internationally."