Scotland 'has modest reserves' of shale gas and oil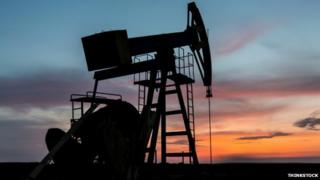 Scotland has only a "modest amount" of shale gas and oil, according to a new study.
The British Geological Survey report was commissioned to assess the potential reserves of fuel in Scotland.
It estimates there are 80 trillion cubic feet of shale gas in central Scotland and six billion barrels of shale oil.
That compares to 1,300 trillion cubic feet in the north of England and 4.4 billion barrels in the south.
The amount of oil and gas which could be commercially recovered is expected to be "substantially" lower.
The report says: "The complex geology of the area and historic mine workings mean that exploratory drilling and testing is even more important to determine how much can be recovered."
Energy mix
UK energy minister Michael Fallon said shale gas and oil reserves in central Scotland would not provide "an energy bonanza".
Mr Fallon said: "Making the most of Britain's home grown energy is crucial to keep job and business opportunities, widen tax revenues and reduce our reliance on foreign imports.
"We know that shale gas alone won't be able to supply all our energy needs, but the environmentally responsible exploration of shale gas could contribute to our energy mix."
He added: "Only the broad shoulders of the United Kingdom can attract investment in new energy sources and maintain the UK's position as one of the world's great energy hubs - generating energy and generating jobs.
"The UK's energy security is among the best in the world, backed by a large consumer and tax base that can afford to support our world-leading energy industries and make us such an attractive place to invest."
Scottish energy minister Fergus Ewing said he would continue to consider fracking applications "on their merits".
He added: "Our responsible approach to the development of unconventional gas was confirmed in the Scottish planning policy published last week.
"It introduces rules to ensure that no operator can undertake hydraulic fracturing unless they first gain explicit planning consent for that activity."
Environmentalists have mounted a series of protests in England against the controversial "fracking" system of extracting shale gas and will campaign against any proposals to frack or drill in the central belt.
WWF Scotland director Lang Banks said: "It's clear that there's not going to be a shale gas or oil bonanza in Scotland any time soon.
"While this study should change nothing about Scotland's aim to decarbonise its power sector and go fully renewable, in the wider interests of tackling climate change it's time for Scottish ministers to commit to start leaving some fossil fuels, including shale gas, in the ground.
"We already know our planet's climate can't afford the risk of burning the fossil fuels we already know about. So, to plan to find and burn even more should really be a non-starter.
'More drilling'
"Only last week it was revealed that Scotland is now generating record amounts of renewable electricity, while other studies have shown we could generate all of our electricity needs without the need for new fossil fuel burning.
"Whether it is shale gas, coal or oil, Scotland really needs to begin transitioning away from polluting fossil fuels."
Prof Mike Stephenson, director of science and technology at the British Geological Survey, said: "The central estimate of shale gas in place is 80 trillion cubic feet and the central estimate for shale oil in place is six billion barrels.
"But reserves cannot be calculated at this stage before drilling and testing take place."
Green MSP Patrick Harvie said the results proved fracking "has no place in Scotland's energy future."
He said: "This study puts paid to all the hype we've been fed about a shale bonanza."
Tom Greatrex, Scottish Labour's shadow energy minister said: "Shale should not be presented as a silver bullet - rather a potential contributor to where we source the gas eight in 10 of us use for heating."
Scottish Conservative energy spokesman Murdo Fraser called for more drilling and testing to establish Scotland's shale potential.
He said: "If we are sitting on billions of barrels of oil and trillions of cubic feet of gas, it's essential we at least check it out."