Record levels of passengers expected at Scottish airports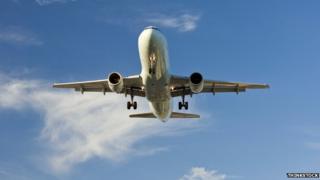 Scotland's two biggest airports are expected to see record levels of passengers as the summer getaway gets under way this weekend.
More than 250,000 people are expected to pass through the terminals at Glasgow and Edinburgh.
School holidays and Edinburgh trades weekend will see a surge in the number of holidaymakers.
Extra airport staff have been recruited to help prevent any possible congestion.
More than 140,000 passengers are expected at Glasgow Airport and management have put in measures to prevent any delays.
The airport has recruited extra staff to help process travellers as quickly as possible and has also invested in a dedicated children's area with a bouncy castle to try to keep families entertained.
Holiday surge
In Edinburgh, the city's trades weekend and school holidays have contributed to the rise in people flying out for a break.
Edinburgh Airport chief executive Gordon Dewar said it was like whole sections of the city were on the move.
He told BBC Radio Scotland's Good Morning Scotland programme: "Yesterday we had the capacity of Easter Road leaving and today we'll have Tynecastle leaving. Over the next three days the equivalent of Murrayfield Stadium will leave."
Both airports have enjoyed an increase in passenger numbers this year and reported a 4.9% growth in passenger numbers in April.
Domestic traveller numbers were up 5.5% and international travellers rose by 4.5% compared with the same month last year.
Glasgow Airport saw passenger numbers rise to more than 576,300.
The airport's strong performance is expected to continue over the summer with both Edinburgh and Glasgow airports announcing new flight connections as well as an increased amount of tourists coming to Glasgow's Commonwealth Games.