Most health boards miss targets for urgent cancer treatment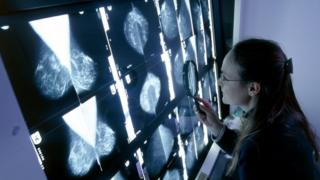 A majority of Scotland's health boards have failed to meet a new national target for urgent cancer treatment.
Official statistics reveal the most sizeable drop in the percentage of patients treated within 62 days of urgent referral since 2012.
Only five out of 14 NHS boards met the target, according to the NHS Information Services Division (ISD).
There was also a slight drop in the percentage of patients seen within 31 days of the decision to treat them.
The Scottish government's target is for 95% of patients to receive treatment within 62 days from an urgent referral on suspicion of cancer.
Between January and March this year, this was achieved in 91.5% of cases, down from 94.6% during the previous three-month period.
Only NHS Ayrshire and Arran, NHS Borders, NHS Dumfries and Galloway, NHS Lanarkshire and NHS Orkney achieved 95% compliance.
Additional investment
Another target states that once a decision has been made to treat the disease, this should start within 31 days.
All but three health boards managed to achieve this in at least 95% of cases though the overall figure (96.2%) was down slightly compared with the previous quarter (97.9%).
NHS Grampian, NHS Highland and NHS Greater Glasgow and Clyde failed to meet the 31-day target.
The Scottish government has announced an additional £2.5m investment to help boards meet waiting times in light of the figures.
Health secretary Alex Neil said: "I welcome that the average length of time a patient waits to start their cancer treatment is just six days as we know the sooner a patient starts treatment the better their chances of survival.
"We are also consistently reaching the demanding 31-day target for treatment despite the fact our NHS is treating more people than ever before and coping with the demands of an ageing population.
"But we must do more - in particular on our 62-day standard."
'Forgotten priorities'
The Scottish Conservatives described the figures as "disgraceful".
Health spokesman Jackson Carlaw said: "We all know how lethal this disease can be, yet hundreds of ill people are being forced to wait more than two months for potentially lifesaving treatment to begin.
"It's not good enough. This is a Scottish government that has forgotten its priorities, and cancer patients are paying the price."
Scottish Labour's health spokesman Neil Findlay, said: "It's bitterly disappointing that once again these crucial targets are not being met.
"A cancer diagnosis is one of the worst things a person and their family can go through and it's appalling that the average start time for treatment for Scots diagnosed with cancer is 39 days."
Meanwhile, other statistics revealed that teenage pregnancies below the age of consent have remained static, while pregnancies in older teenagers have continued to decline.
Poorer teenagers are 12 times more likely to have a baby than more affluent counterparts.
Only 725 of the 2,501 pregnancies in the poorest areas in 2012 ended in abortion, compared with 385 of the 534 pregnancies in the most affluent areas.
The rate of pregnancies among under-16s in Scotland was 5.6 per 1,000 population - the same as 2011.
The rate per 1,000 population for the under-18 age group has dropped from 30 in 2011 to 27.9, and from 43.8 to 41.5 in the under-20 age group.
In mainland NHS boards:
Highland recorded the lowest rate of teenage pregnancy in the under-16 group with three per 1,000 population
Borders recorded the lowest rates in both the under-18 and under-20 groups with 20.7 and 31.2 per 1,000 respectively
Tayside recorded the highest rate of teenage pregnancy in the under-16 group with 7.8 per 1,000 population
Fife recorded the highest rates in both the under-18 and under-20 groups with 33.7 and 48.4 per 1,000 respectively.