Scottish independence: Yes/No theatre show gets a high five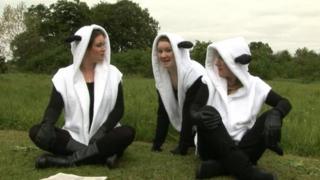 The National Theatre of Scotland is currently staging a 24-hour celebration of five-minute theatre - entitled The Great Yes No Don't Know Five Minute Theatre Show, featuring contributions online and in person from around the country.
It's ten to five and the queue outside Oran Mor in Glasgow is small, and full of slightly bemused patrons. Does anyone know how long it lasts? asks one lady. I think you can drop in and out, says another. Are there pies? asks someone who's clearly a regular at the venue's popular A Play A Pie and A Pint performances.
In fact, the five-minute play format has been used by NTS once before, on their fifth anniversary, and fits this discussion of all sides of the independence debate quite nicely. It's rich and varied, both subtle and broad, and respectful of the various opinions offered.
First up is new writer Victoria Bianchi with a personal anthem to her unborn baby. Then there's the out-and-out hilarity of David Greig's Two Soldiers in which independence means a separate Scottish army bored with the lack of action.
The technical challenges of streaming everything online means the audience watch many of the live performances twice - but most merit a second listen, and at five minutes long, they're never dull.
Political variety
Interspersed with performances are short Q&A sessions with veterans of Scottish political theatre - among them, Martin McCardie, Dave Anderson and George Drennan. For Dave Anderson, "all theatre is political, life is political".
The words are particularly poignant given the death of his long-term collaborator David MacLennan just 10 days ago. MacLennan, along with writer David Greig, was the instigator of this political variety theatre show. It follows naturally in the footsteps of 7:84 and Wildcat. In his words, "a show of the people, by the people, for the people".
Most of the work is a mere two or three weeks old, but none so fresh and poignant as Dear David by David Greig, in which he imagines a final meeting with David MacLennan to discuss their very different views on independence over a dram.
Upstairs in the bar, there's another show on TV. Some kind of football game. I leave for home and tune in from there, finding myself strangely addicted to this compelling Scottish variety show (which reaches way beyond our borders to Turkey and Texas, no less) and has so much to say, in so little time.
The Great Yes, No, Don't Know Five Minute Theatre Show is at the Citizens Theatre in Glasgow from 10:00 on Tuesday and at Edinburgh College. Also online at http://fiveminutetheatre.com/