Scottish independence: Put your referendum questions to Prof John Curtice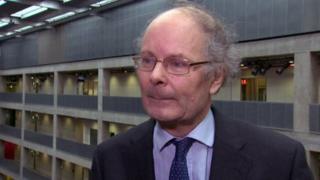 The latest in our series of independence referendum webcasts will see Prof John Curtice from Strathclyde University answering your questions.
The BBC's Isabel Fraser will be quizzing Prof Curtice on the state of the campaigns and the polls ahead of Scotland's referendum in September.
He has been studying voting behaviour for most if his life. He recalls that as a 10-year-old in Cornwall he was fascinated with the 1964 UK general election count, which was eventually won by Harold Wilson.
In the late 1980s he came to Glasgow to continue his political number-crunching and has been following constitutional change in Scotland for the past 25 years.
If you have something to ask Prof Curtice email newsonlinescotland@bbc.co.uk
Please put "Referendum questions" in the message field of your email.
Scotland's electorate will go to the polls on Thursday, 18 September, to vote in the independence referendum.
They will be asked the Yes/No question: "Should Scotland be an independent country?"
The interview with Prof Curtice will be published on BBC Scotland's news website.