Doctors need help caring for children with allergies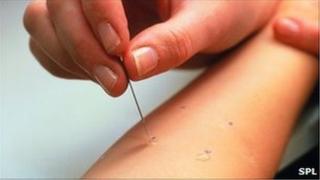 Healthcare staff need better training to improve allergy care for children in Scotland, a medical report claims.
Education staff would also benefit from increased awareness of conditions such as anaphylaxis and food allergies.
One in three children in Scotland is affected by allergies, costing the NHS more than £130m a year.
The report, by the Children's and Young People's Allergy Network Scotland (CYANS), calls for doctors and schools to get more reliable information.
Among the report's findings were that:
Allergy care is important for most primary care clinicians but very few have allergy expertise
The majority of healthcare professionals requested additional allergy education and training
Secondary care allergy service provision varies greatly between health boards in Scotland
There is insufficient capacity in adult allergy services to provide adequate care for the majority of young people moving from paediatric services.
Active lifestyles
Professor Jürgen Schwarze, clinical lead for CYANS, said: "Allergies can have a major impact on daily living, emotional and social wellbeing for children, young people and their families.
"We have found families and young people with allergies do not feel sufficiently supported by clinical services or in schools.
"They wish for increased allergy awareness amongst the general public and require access to reliable allergy information."
Gordon Brown, of Asthma UK Scotland, welcomed the report's findings.
He said: "Scotland has one of the highest rates of childhood asthma in the world and we know that, for many, their asthma is triggered by an allergy.
"We also know that many young people with allergies suffer because their condition is misunderstood by those around them.
"This initiative will be another step forward in improving their care so they can lead healthy and active lifestyles."