Scottish road safety move on parents' driving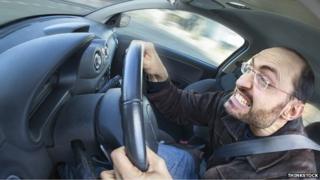 The Scottish government has backed a move to persuade drivers to improve their standards when children are in their cars.
The Kids in the Car campaign follows research indicating children witness poor driving behaviour.
Drivers in the study admitted speeding, gambling with amber lights and shouting at other road users.
Researchers said young drivers' attitudes were influenced by what they have witnessed as they were growing up.
Bad habits witnessed by children included:
34% of drivers said they had exceeded the speed limit by at least 10mph
30% said they had accelerated to drive through an amber traffic signal
26% had shouted or sworn at other drivers or pedestrians
19% of drivers admitted driving while tired
Neale Kinnear, principal psychologist at researchers TRL, said: "Children are always learning from their parents' behaviour, whether inside or outside of the car.
"Children not only soak up what is going on in their world but also try to make sense of it to develop their own behaviour. What they learn as a child will inform their future behaviour and social interactions."
He added: "Parents, therefore, can protect themselves and their child passengers now, and in the future, by adopting basic safety-related behaviours which can improve safety now, and for future generations."
The Scottish government said the campaign will include television, cinema, radio and online advertising.
Transport Minister Keith Brown said: "This activity is so important in helping parents and carers keep their children safe here and now by exercising safe driving behaviours, but it is also critical to their future safety when they get behind the wheel, given what we now know about children's crash risk mirroring their parents' crash risk."