Satisfaction with NHS in Scotland rises over decade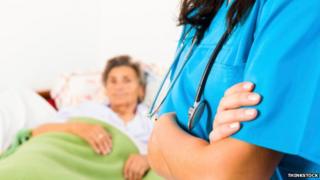 Satisfaction with the NHS in Scotland has increased significantly in the last decade, research suggests.
An official survey of almost 1,500 people found that 61% were either very or quite satisfied with the health service, compared with 40% in 2005.
Health Secretary Alex Neil attributed the findings to increased NHS staffing and a reduction in waiting times.
The statistics are the latest to be released from the Scottish Social Attitudes Survey 2013.
Mr Neil said: "The fact that nearly two thirds of people in Scotland claim to be satisfied with our health service is testament to the incredible work of all our staff in the NHS.
"In the last seven years, we've taken important steps to improve the way our health service is run, including putting an extra 8,500 staff into our NHS and protecting the frontline budget - rising to a record £11.8bn 2015/16.
"Waiting times have improved substantially in recent years, even as the NHS is treating more patients than ever before."
The proportion of people who said they were very or quite dissatisfied with the NHS fell over the same period from 44% to 26%.
The survey of 1,497 people was carried out between June and October last year.