Fund to tackle reoffending gets £8m boost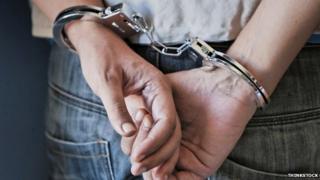 A fund which supports groups who work with young people leaving prison has received an £8m boost.
The Scottish government has announced it has contributed £6m to the reducing reoffending change fund (RRCF).
The Robertson Trust charitable organisation is to provide an additional £2m.
The scheme aims to help young people turn their back on crime by offering the offenders intensive support and mentoring.
Figures released earlier this month showed the number of young people who reoffend after being released from prison was continuing to fall.
Less than a third of offenders were reconvicted within a year of completing their sentence, with the fall largely driven by a drop in reconvictions of offenders under 25.
Prolific offending
First Minister Alex Salmond announced the new funding on a visit to the offices of Glasgow-based Includem, one of six projects that will benefit from the fund.
He said: "Providing mentoring schemes for those leaving prison is one of the ways offenders can move away from a life of crime and contribute positively to Scotland's communities, making them safer and more prosperous places.
"This £8m from the RRCF will enable charities to do just that.
"Includem is a great example of how this funding is put into practice. By engaging with young people in their own environment and understanding what issues they and their families are facing, staff can work to integrate offenders into society. And that's something all of the awardees are doing."
Includem, which will receive £374,000, employs 99 staff and was set up in 2000 to work with disadvantaged young people. It now supports more than 500 young people and their families every year.
Chief executive Angela Morgan said: "With the support of this funding, the Includem IMPACT project is working to reduce reoffending by providing intensive support to challenging and chaotic young people involved in prolific violent offending in Glasgow.
"Initial evaluation findings are already indicating that targeting these young people to change their attitudes and behaviours, building on their strengths and skills, is being successful at reducing the likelihood of prolific violent reoffending and preventing them being drawn into a cycle of custodial sentences."
The Wise Group, based in Glasgow's East End, will also receive money for its project called New Routes, taking its total funding from £3m to £6m.
Laurie Russell, chief executive of the Wise Group, said: "The Scottish government wants to see evidence of success and it wants to back projects that make a difference.
"This increased funding for the reducing reoffending programme is proof positive that the New Routes project, and others like it, are delivering results.
"Reducing reoffending in Scotland is a win win win. It's a win for the government, a win for the taxpayers because it is much cheaper to keep previous offenders out of prison, and a win for ex-offenders and safer communities."