Scottish ambulance crews match response time despite 999 increase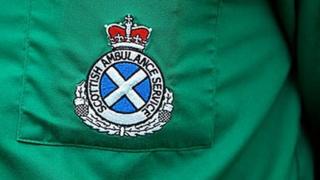 The Scottish Ambulance Service has maintained its average response time of 6.5 minutes to the most serious life-threatening incidents, despite a 10% increase in calls.
The quickest responses last year were six minutes in Greater Glasgow and Clyde and 6.2 in Lothian and Fife.
The longest average times were 8.1 minutes in Orkney and 10 minutes in Shetland.
Crews also saved the lives of 509 people who suffered a cardiac arrest.
Overall, they responded to 105,200 of the most serious incidents within eight minutes, which is an increase of 8,285 - or 22 more every day.
Ambulance service chairman David Garbutt told the service's annual public review that 77,399 people were treated at the scene, reducing inappropriate attendance at A&E units.
He said: "Our staff recognise that the patient is at the heart of everything that we do.
"They continue to demonstrate their dedication and commitment to patients, delivering care with sensitivity and understanding in what are sometimes very challenging situations."
Mr Garbutt revealed that the specialised national resilience team had spent much of the year preparing detailed operational plans for the Commonwealth Games.
He said: "There will be 240 ambulance staff dedicated to providing medical cover at Glasgow 2014 using a variety of vehicles, including 36 ambulances and a number of motorbikes and bicycles, in order to respond immediately to any medical emergencies."