Junior doctors to see end of seven night shifts in a row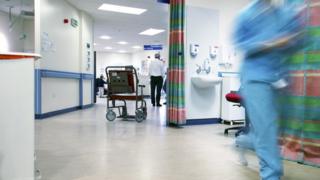 Junior doctors in Scotland will no longer have to work seven night shifts in a row under new government guidelines.
Health boards have been told to phase out the practice by February next year.
It currently allows them to meet the European Working Time Directive by averaging hours over six months.
The Scottish government says long shifts are "not in the spirit of the law".
There have been calls for an end to the practice since Dr Lauren Connelly, a junior doctor at Inverclyde Royal Hospital, was killed in a road accident in 2011 after working long hours.
Health Secretary Alex Neil also wants to simplify the monitoring process for junior doctors' working hours.
He said that, while progress has been made, more had to be done to ensure the right work life balance was in place.
Mr Neil said: "Scotland's NHS must continue to attract world class staff so that it can provide truly world class services for patients.
"We have already increased the number of staff working within NHS Scotland and are now focusing on ensuring that they have the best possible working practices.
Welcome progress
"I am quite clear that no junior doctors in Scotland should have to work seven nights in a row and I am committed to ending this practice where, on occasion, it does exist by February next year.
"While 99% of rotas in NHS Scotland do not include a junior doctor working more than four nights in a row, we are committed to ensuring full 100% compliance from health boards.
"We expect boards to observe not simply the letter, but also the spirit of the law."
The British Medical Association has welcomed the announcement.
Dr David Reid, chairman of the BMA's Scottish junior doctors committee, said: "There is a growing body of evidence to demonstrate the dangers of shift working patterns on individual doctors' performance and more importantly on patient safety.
"I am therefore pleased that the Scottish government has set a deadline to end the practice of junior doctors working seven full night shifts in a row.
"Although this is welcome progress, many junior doctors still work a combination of both day and night shifts which means they can be working up to 90 hours a week.
"It will be a challenge for NHS employers and the Scottish government to achieve the target to end long stretches of day shifts."