Funding for 500 new health visitors in Scotland confirmed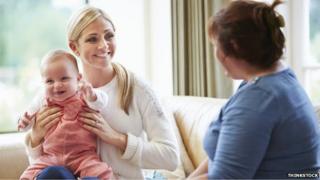 An extra 500 health visitor posts will be created in Scotland over the next four years, the Scottish government has confirmed.
The health visitors will be recruited over a four year period at a cost of £40m.
Health secretary Alex Neil said the additional staff would play a key role in tackling health inequalities.
The role of health visitors is to offer support and advice to families from the birth of a child until the age of five.
The new staff will be needed to meet a central - and controversial - aspect of the Children and Young People Act.
The new legislation, which was passed in February, specified that every child should have a "named person" to monitor their welfare.
Health visitors are set to play a crucial role in this, often taking on the role for young children.
The Scottish government confirmed it will invest £1.5m this year in health visitor education, with a further £2m towards creating 50 new health visitor posts.
Funding for the new posts will then rise to £6.8m next year, £12.8m in 2016-17 and £20m in 2017-18.
'Vital role'
Mr Neill announced the new positions are being created during a visit to the Goodtrees Neighbourhood Centre in Edinburgh with Children's Minister Aileen Campbell.
He said: "Health visitors play a vital role in our communities and they are at the core of delivering universal services.
"As front-line NHS workers working with people to reduce health problems from an early age, these new health visitors will play a key role in the Scottish government's efforts to reduce health inequalities."
The investment was welcomed by Theresa Fyffe, director of the Royal College of Nursing Scotland, who said: "We're pleased the Scottish Government has been listening and today's announcement is a significant step in the right direction - we will continue to engage with the Scottish government to make sure Scotland's families do have ready access to and support from health visitors."
Conservative health spokesman Jackson Carlaw said: "We agree with the RCN that it is just a beginning. More health visitors are just part of the urgent need to invest in Scotland's NHS.