Robert Harris wins Walter Scott Prize for Historical Fiction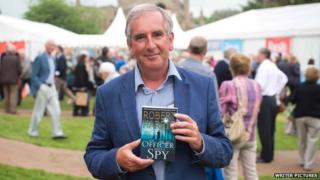 Robert Harris has won the £25,000 Walter Scott Prize for Historical Fiction for his ninth novel, An Officer And A Spy.
The 57-year-old Englishman had also been shortlisted in 2010 for his seventh book, Lustrum.
An Officer And A Spy recreates the Dreyfus affair, an infamous miscarriage of justice in Paris in 1895.
The judges described it as "a masterwork, a novel written by a story-teller at the pinnacle of his powers".
Mr Harris, a former journalist and BBC television reporter, had already written successfully in non-fiction before the success of his historical fiction novels Fatherland and Enigma, both of which were adapted for film.
He is the fifth recipient of the award and was presented it by the Duke of Buccleuch at the Brewin Dolphin Borders Book Festival in Melrose.
The judges said the Nottingham-born author had made a "compelling literary drama out of the Dreyfus affair, an episode familiar to many" - when a young Jewish officer was convicted of treason.
"Robert Harris has done something Walter Scott would have been proud of," they stated.
"Exactly 200 years ago, Scott pulled off the same transformation with Waverley and another familiar episode, the 1745 Jacobite Rebellion.
"The book is set at the end of the 19th century, but its themes have resonated ever since.
"Cover-ups, anti-semitism and a suspicion of the other, codes and leaks, and the mission of a single individual to force a government to right an injustice - all of these have modern parallels."
The judges described it as "a golden year for historical fiction" from which a clear winner emerged despite "a shortlist of extraordinary quality".
Also shortlisted were Life After Life by Kate Atkinson, The Luminaries by Eleanor Catton, Harvest by Jim Crace, Fair Helen by Andrew Greig, and The Promise by Ann Weisgarber.
Ms Weisgarber had travelled from Texas to attend the ceremony at which actor John Sessions read extracts from each book in the running for what is one of the UK's richest literary prizes.
The judging panel for the 2014 Walter Scott Prize comprised of Kirsty Wark, Louise Richardson, Jonathan Tweedie, Elizabeth Laird, Elizabeth Buccleuch, and chair Alistair Moffat.