Anti-litter campaign urges Scots to 'do the right thing'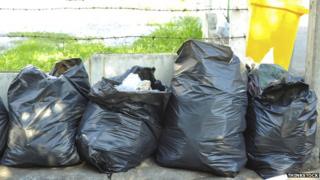 A new anti-littering campaign has been launched with a plea for Scots to dispose of their rubbish responsibly.
The Towards a Litter-free Scotland initiative urges people to "do the right thing" when throwing items away.
The drive is backed is accompanied by a marketing in a bid to reduce littering and increase recycling,
Earlier this year the Scottish government upped fixed penalties for littering and flytipping.
Environment Secretary Richard Lochhead said people dropped 250 million visible bits of litter each year, with the problem costing the country a minimum of £53m a year.
There will also be pilot information schemes to reward communities for organising voluntary clean-ups in areas that are local litter blackspots.
'Throwing money away'
Mr Lochhead said: "Scotland is a beautiful country and we all have to play our part and take personal responsibility to keep it that way.
"Yet 250 million bits of visible litter are dropped each year, with 50 tonnes of litter cleared up from the sides of Scotland's motorways each month alone.
"One in five adults admit to littering and we need this to change. Instead of throwing rubbish away - everything from sweetie wrappers to mattresses - I urge everyone to do the right thing and dispose of waste properly."
He added: "Littering and flytipping harm public health and the environment, and cost Scotland at least £53m each year to tackle - public money that could be better spent on other things.
"Littering is literally throwing money away, especially when you consider that discarded plastic bottles, aluminium cans and other materials would have been worth an estimated £1.2m when recycled.
"The eyes of the world are on Scotland in our second Year of Homecoming as we decide our nation's future and play host to the Glasgow 2014 Commonwealth Games and Ryder Cup.
Derek Robertson, chief executive of Keep Scotland Beautiful, said he was delighted that littering was being given a "strategic focus".
He added: "To be effective, this strategy has to make a difference in the places where people live, work and spend their leisure, in our communities.
"Keep Scotland Beautiful will continue to work in partnership in communities throughout our beautiful country to ensure our shared objective of a cleaner and greener Scotland is delivered."
In October this year the government will bring in a new regulations which will introduce a 5p charge for single-use carrier bags.