Plan to stop allotments being closed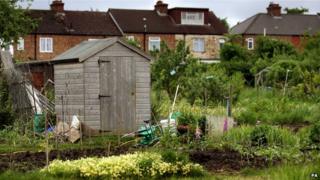 There could be more protection to stop allotments being closed and new rights for communities to buy land.
The measures are included in the Scottish government's Community Empowerment Bill.
The plan is to extend the already existing community right to buy scheme to cover urban areas and large rural towns.
One aim is to make it easier to bring derelict public land and buildings back into use.
Million acres
The government said the bill - published on Thursday - was designed to strengthen and nurture community participation and encourage enterprising community development.
The existing community right to buy will be streamlined and extended to cover all parts of Scotland. The government said it hoped to have one million acres of land in community ownership by 2020.
One provision allows for communities to take over public sector land and buildings which may be underused.
The government said this could allow community groups to grow their own food, develop play facilities for young people or create a place for older people to meet and socialise.
Local Government Minister Derek Mackay said: "This bill is about enabling people and communities throughout Scotland to make their own decisions and to build their own future.
"Reforming the community right to buy, giving urban communities in Scotland the same rights as rural communities, and creating access to public land and buildings is a momentous step forward.
"This legislation will empower communities who wish to take over public land and buildings where they think they can make better use of them than their current public sector owners and ensure their ambitions are supported by public bodies."
Surge in demand
Rules on Scotland's local authority allotment sites will also be simplified, strengthening the duty on councils to provide sites triggered by actual demand. The bill will also protect allotment sites from closure.
David Cameron, chairman of Community Land Scotland, said: "The forthcoming Community Empowerment Bill now provides opportunities to make progress on a number of the measures around increased community land rights in and we want to see it used to maximum effect and welcome this opportunity."
Jenny Mollison, of the Scottish Allotments and Gardens Society, said there had been a surge in demand for allotment gardening and long waiting lists throughout Scotland.
She said: "An overhaul of outdated allotment laws, some of which date back to the 19th Century, is long overdue so that local authorities are obliged to meet the demand for allotments.
"Alongside the nutritional benefits of eating home-grown food, allotments provide physical exercise, green spaces, and stress relief."
The bill could become law next year.