Police get 3D laser cameras to help clear crash scenes more quickly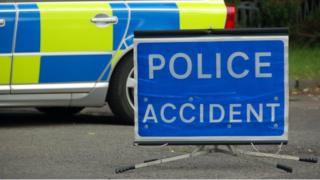 Waiting times for roads to re-open after serious accidents will be cut thanks to the introduction of 3D laser cameras, according to Police Scotland.
The £50,000 scanners produce a virtual image to speed up the examination and clear-up of crash sites.
They record a million points per second while rotating 360 degrees and allow officers working remotely to view the scene from any angle.
Insp Darren Faulds of Police Scotland said: "They will have a major impact."
Funding for the five scanners has been provided by Transport Scotland as part of a government scheme to reduce delays caused by traffic collisions.
"At the moment, if there is a serious or fatal crash on a road, the area is closed to allow those who have been injured to receive treatment and to protect those who are working at the scene," said Insp Faulds.
"During this time, officers will meticulously examine the scene before recording each point of evidence manually using traditional surveying equipment.
Rural areas
"The virtual survey taken by the new scanners can be done in less time and this, combined with prudent scene management, will make a significant impact on the time taken for investigations at crash sites.
"This will also have a beneficial knock-on effect with regard to the cost of road closures and the disruption to commerce and the public."
Transport Minister Keith Brown said the cameras would be rolled out in the coming weeks and he was confident the benefits would be seen quickly.
"Road closures are only ever put in place in the most serious of incidents and I know that people are understanding of the circumstances," he said.
"However, frustration can creep in and the new laser scanners will allow a thorough examination of accident sites in a shorter timescale, meaning that the road will be opened more quickly.
"I am sure the scanners will have a particular use in more rural areas where there are fewer diversion routes available when incidents take place."