Green transport projects given additional funding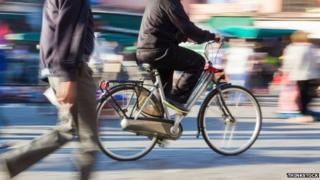 A number of green transport projects are to be boosted by an investment of £15m from the Scottish government.
The cash will be used to help cycling infrastructure as well as a scheme to increase the amount of electric cars in Scotland.
The investment has been found from unused contingency funds for the Queensferry Crossing budget.
Projects will benefit from the new money across a two year period.
The new funding programme will mean £7m of extra investment for cycling and walking infrastructure, £2m for electric vehicle rapid chargers and £1m for up to 30 electric vehicles for car clubs.
Transport minister Keith Brown said that there would be also £5m of funding for further green projects in the 2015/16 draft budget.
He added: "Cycling and walking are good not only for the individual, but they increase the safety on our roads through reduced congestion, which also helps improve our environment.
"We do recognise that giving up the car isn't an option for everyone so we are not only investing in car clubs to help cut the number of cars on our roads, but ensuring that those cars are electric vehicles to help minimise emissions."
Transport Scotland said the investment would fund the installation of up to 300 additional electric vehicle charging points, taking the total to about 1,200.
The cycling investment will seek match-funding from other organisations, and will extend the Community Links Programme, connecting communities to amenities through improved cycling and walking paths, and the National Cycle Network as well as installing bike parking at workplaces and schools.