Tracking Scotland's attitudes to alcohol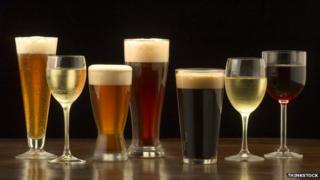 The Scottish Social Attitudes Survey 2013, which has just been released, questioned 1,500 adults about their views on alcohol. Here are 10 findings:
1. Half of adults in Scotland correctly identified the number of units in a pint of beer, measure of spirits or a glass of wine. However, only 18% knew the correct number of units in a bottle of wine.
(* If you want to know how many, go to the bottom)
2. People aged 65 or over and 18-29 year olds were least likely to get the units of alcohol question right. There was little difference between men and women when it came to identifying the number of units. Surprisingly, heavy drinkers had the greatest awareness of units.
3. People are aware of the dangers of heavy drinking. About 60% thought alcohol was the drug causing the most problems in Scotland - up from 46% in 2004. And 84% thought it caused either "a great deal" or "quite a lot of harm in Scotland". Only 19% said "getting drunk is a perfectly acceptable thing to do on weekends".
4. While young people were still more likely than others to have more permissive views about getting drunk, there has been a drop in the proportion of 18-29 year olds agreeing that getting drunk is a perfectly acceptable thing to do at weekends - down from 53% in 2004 to 40% in 2013.
5 Most people (77%) felt it was possible to enjoy a night out in the pub without drinking. However, there was a small, but significant, increase in the proportion of people who said it was easier to enjoy a social event if you had taken a drink (39% in 2013).
6. The proportion of drinkers reporting that other people would think it odd if they did not drink at all increased - from 31% in 2007 to 41%.
7. Non-drinkers' views on how others perceive their behaviour has not changed significantly since 2004. In 2013, 44% of non-drinkers said others thought it odd that they abstained from drinking alcohol.
8. Views on binge drinking were more permissive when it was a young student drinking at this level, compared with a middle-aged person with family responsibilities.
9. A third of people said they did not know what the daily guidelines for alcohol consumption were for men and women. A further quarter got the answer wrong. (* answer at bottom)
10. The survey statement "getting drunk occasionally is all part of being Scottish" found agreement with 16% of people. Most (62%) disagreed with the statement, in line with the general lack of approval of getting drunk among adults in Scotland.
(Note: Correct number of units: pint of beer = 2 to 3 units, standard pub measure of spirits = 1 to 2 units, bottle of wine = 8 to 10 units and a 175ml glass of wine = 2 to 3 units. Men are advised not to exceed 3 to 4 units per day and women are advised not to exceed 2 to 3 units per day)